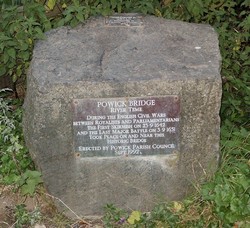 You can click on the image below to view a larger version of the image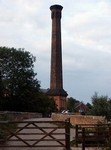 Today the bridge is dominated by the chimney fo the 19th century mill
More Images - click any number below to view gallery images:
Visiting the battlefield
The exact location of the battlefield within the area of Lower Wick is not known and all of the land, except for the meadow adjacent to the bridge, has been built over. Despite this, a brief visit is worthwhile, but only if combined with a tour of the 1651 Worcester battlefield, which will itself bring you to Powick bridge.
Park in the small car park adjacent to the bridge, accessed from the new roundabout where the A449 from Worcester to Powick and Malvern crosses the Worcester bypass. From here one can walk north along the former road over the medieval Powick bridge. The small monument which commemorated both the 1642 skirmish and the 1651 battle is located adjacent to the bridge. The site is dominated by the chimney of the 19th century mill, on the north west side of the bridge. One still gets a very good impression of the nature of the obstacle that the river Teme and the narrow bridge itself posed for the cavalry in 1642. It is best viewed at close quarters from the footpath which leads east along the north bank of the Teme from the north end of the bridge. It is not certain how much the present character of the Teme has been altered by the widening and deepening of the Severn in the last two centuries, but at present the steep banks would suggest that crossing the river would have been totally impractical by any means other than the bridge. Another good view of the meadows and the bridge can be gained by walking north to the main road and turning right along the side of the main road to view the area from the 19th century bridge. It is not however worthwhile following the road north towards Worcester to the main battlefield as, at present, the exact area of the action cannot be pinpointed within the urban area.