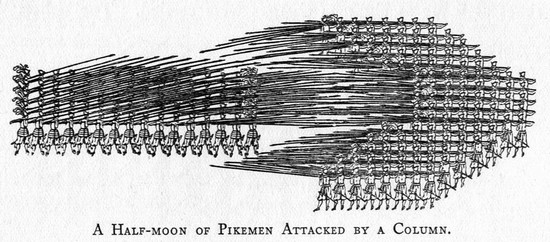 ROYALIST
The Earl of Lindsay had been Lord General until shortly before the battle but, as a result of the dispute with Prince Rupert over the form of battle to be employed, he resigned his command. He was replaced after the battle by the Earl of Forth, who served as Field Marshal - responsible for forming the army deployment - during the engagement . Rupert, as Lieutenant General of Horse, commanded on the right wing, with Byron in support. On the left wing Wilmot commanded, with Lord Digby in support. In the centre, the infantry was commanded by Sir Jacob Astley, supported by five brigade commanders.
In all the royalist army consisted of around 13,000 men. Of these nearly 3000 were cavalry, 9,000 infantry and less than 1,000 dragoons. They also probably had 14 pieces of ordnance deployed in the battle.
The royalists had been forced to supply their army from scattered, small arsenals and private collections of equipment. As a result some of the troops lacked essential equipment and supplies. This may also have meant that, unlike the parliamentarians, the royalist infantry was somewhat less strong in musket compared to pike than the ideal ratio 2:1.
PARLIAMENTARIAN
The Earl of Essex was Lord General of the parliament forces. Under him Sir William Balfour was the effective commander of the cavalry, positioned on the right, while the left wing of cavalry was under Sir James Ramsey. The infantry was commanded by Sir John Merrick, supported by three brigade commanders.
Essex probably had around 12,000 troops. These comprised about 2,850 cavalry, in 42 troops; a little over 9,000 infantry in 12 regiments; 700 dragoons and 16 pieces of ordnance.
Judging by the evidence in the local records, discussed by Tennant (1992), this was a particularly ill disciplined army, more so even than the royalists. It was however far better equipped, thanks to the fact that parliament had secured control of the main arsenals and of the main production sites of munitions and military equipment.