Battle of Aberdeen II
13th September 1644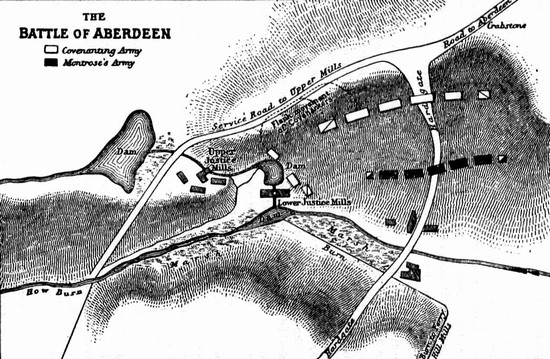 BATTLE DATA
Name: Battle of Aberdeen II
Date: 13 September 1644
War period: Civil War
Start time and Duration: Unclear
Outcome: Scottish royalist victory
Armies and losses: Royalist: less than 1,500-1600 foot; up to 80 horse several light artillery pieces; Covenanter: up to 2000 foot (of which 1100 were local levies); about 300-500 horse and several light artillery pieces. Losses: Covenanter losses greater than the royalist ones with up to around 500 Covenanters killed.
Location: The battle was fought in the Justice Mills area of Aberdeen which is now completely developed
Map details: Grid reference NJ933057 (393371, 805712); OS Explorer Map 406; OS Landranger map 38
A Scottish royalist force under the Marquis of Montrose defeated a larger Covenanter army as part of a wider campaign to lure the Army of the Covenant from England.
The Covenanter government of Scotland had allied itself with the English parliament and had entered the war in England in early 1644, the Scottish army having a dramatic impact in the campaign for the north of England. In response, following the royalists' dramatic defeat at Marston Moor (Yorkshire, July 1644), the King appointed the Marquis of Montrose as his military commander in Scotland. On 28th August 1644 Montrose raised the royal standard and with little more than 2000 troops fought a campaign in which he was to win a series of dramatic successes in the Highlands against the Covenanter forces.
Montrose began a campaign intended to present such a threat to the Covenanter government that they would have to recall Leven's Scottish army from England, and thus swing the balance of the war there back in the royalist favour. In Scotland he might even, in the long run, manage to topple the government and install a regime favourable to the king. Montrose's first objective was to establish a secure territorial base upon which he could sustain a long campaign. Though outnumbered, his forces achieved their first victory at Tibbermore. This forced the government to recall some but not the bulk of the army from England, and other troops from Ireland.
From Tibbermore the royalists marched east towards Dundee but were rebuffed and so they pressed on towards the government controlled city of Aberdeen. Various local forces had been called to Aberdeen in early September to counter the threat from Montrose and, though not all turned out, the Covenanter army was the larger of the two forces. However, they were inexperienced and poorly led, providing Montrose with the opportunity for another victory.
A REPORT ON THE BATTLE PREPARED, FOR HISTORIC SCOTLAND BY THE BATTLEFIELDS TRUST, IS AVAILABE FROM THE DOWNLOAD AREA ON THE LEFT.