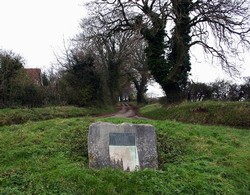 You can click on the image below to view a larger version of the image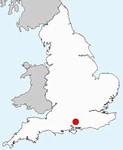 Location map
More Images - click any number below to view gallery images:
Battle of Cheriton
29th March 1644
Countering Sir William Waller's advance towards Winchester, Sir Ralph Hopton's Royalist army reached Alresford, to the north east of Winchester, on 27th March. Hopton deployed his troops on the downs south of Alresford, approximately one mile to the east of the village of Cheriton. But Hopton had been joined by reinforcements under the Earl of Forth and, as senior officer, it was he and not Hopton who actually took command of the Royalist army. Waller's forces camped for the night close to Hinton Ampner, a short distance to the south.

The battle of Cheriton was fought on the fields to the east of the village the following day. It was here that Waller finally halted the Royalist advance out of the South West. The Royalist defeat thwarted Charles plans of an advance upon London and forced Hopton to retreat to Basing House with the bulk of the army, while the Earl of Forth returned to the Royalist capital at Oxford. In November Prince Rupert finally superseded him as commander of the King's armies.

The area of the battlefield is now fully enclosed but remains agricultural land with little development. Cheriton Wood survives, as do many of the narrow hedged lanes that may have been present at the time of the battle. There has been considerable argument as to exactly where in this landscape the battle was fought, with Adair disputing the traditional site and suggesting a location to the south, close to Hinton Ampner. Subsequent metal detecting survey has produced evidence which may suggest that the traditional site is the correct one, but until a detailed study of the battlefield is published the case will remain unproven.
Access to the battlefield is via an excellent network of footpaths, lanes and minor roads. These enable the visitor to gain a good understanding of the physical topography of this landscape, from the conjectural Royalist and Parliamentary positions on both sites. A battle monument was erected by public subscription in 1975 and there are information boards: on the Royalist side of battlefield at the end of Scrubb's Lane and on the Parliamentarian side on the bridleway leading up to the battlefield from the Hinton Arms pub.
KEY FACTS
Name: Battle of Cheriton
Type: Battle
Campaign: Campaign for the South 1643-4
War period: Civil Wars
Outcome: Parliamentarian victory
Country: England
County: Hampshire
Place: Cheriton / Tichborne / Hinton Ampner / Bramdean / Bishop's Sutton
Location: alternative sites
Terrain: enclosures, wood, common (down)
Date: 29th March 1644
Start: early morning
Duration: all day
Armies: Royalist under Earl of Forth (outranked Hopton); Parliamentarian under Sir William Waller

Numbers: Royalist: circa 5,000; Parliamentarian: circa 10,000
Losses: Royalist: circa 300; Parliamentarian: circa 60
Grid Reference: SU598294 (459884,129498)
OS Landranger map: 185
OS Explorer map: 132
English Heritage Battlefields Register report CLICK HERE
Cheriton pages compiled by G Foard and T Partida, May 2005