Other pages about
Battle of Hopton Heath
The Battle (1)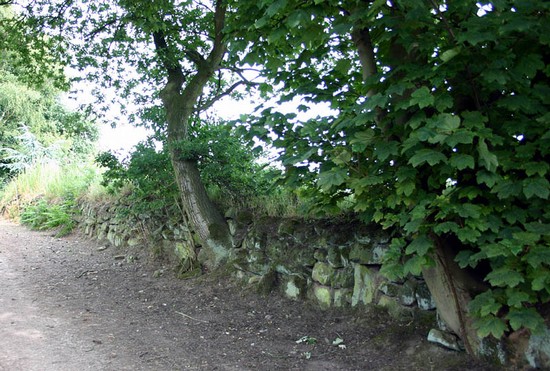 Having gained the field first the parliamentarians were able to choose their ground carefully. They deployed some distanace to the south of the steep north-east facing escarpment which falls northward to the infant River Trent, alongside which lie the villages of Salt and Weston. Musketeers lined the hedges and walls, with the main body deployed within a rabbit warren. The artillery was placed upon the ridge with the approach there protected by marshy ground. It is likely that the 'Heathyards' enclosure, and possibly even the walls within what is now Ingestre Park, on the east of the Stafford to Uttoxeter road, provided many of the hedges and walls referred to in the primary accounts of the battle.
The royalists marched north to the battlefield from Stafford, and by the time they reached the battlefield and deployed on the southern periphery of the heath it was already late afternoon.

From these positions the two sides exchanged fire, with the royalist cannon 'Roaring Meg' inflicting considerable damage in the enemy lines. Seizing the initiative the royalist cavalry, led by Earl Northampton, charged the parliament position with considerable success, forcing both Gell's and Brereton's horse to retreat within 15 minutes action. Rallying and charging again the royalist horse succeeded in capturing some ground and artillery pieces, almost routing the main parliamentarian body. However, during the attack Northampton was separated from the main force, unhorsed and killed. The parliamentarians rallied and retook the artillery pieces. A further attack was led by Sir Thomas Byron, during which assault he was wounded. This time the royalists again took the artillery pieces and routed the parliamentarian horse, which fled from the field. By this time the battle had reached something of a stalemate and the royalist troops disheartened by the loss of their commander and the wounding of another senior officer were disinclined to press their advantage. In the coming darkness the parliamentarians retreated, leaving the field to the royalists.