Other pages about
Battle of Lansdown Hill
Visiting the battlefield (4)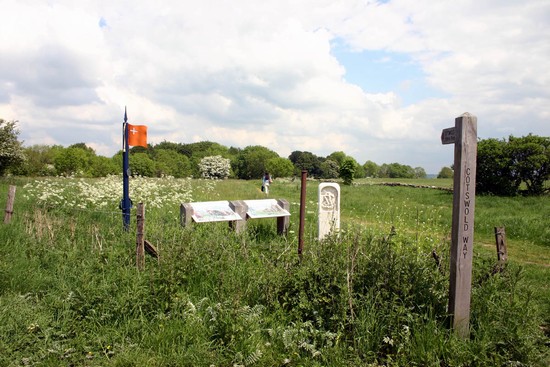 Lansdown is one of the most spectacular of all English battlefield landscapes and so a visit will be enjoyed for much more than the military interest alone. This is however a site that can only be effectively explored on foot. Much can be appreciated by an easy walk along the plateau edge, a trail which is well served by battlefield interpretation panels. If however the wider battlefield is to be explored then two very steep descents and ascents are involved along less clearly marked footpaths, but the far better understanding this provides more than justifies the effort.
The broad phases of the action and the way in which it fitted into and was influenced by the natural topography can be immediately grasped, because the story is so clear and the pattern of hill and vale is so dramatic. However the visitor must also realise that the detail of the story remains tentative, for although the general pattern and location of the action is not open to dispute, the finer detail is. Despite appearances, the landscape has in some places changed significantly since 1643 and we are thus far from certain exactly where some key parts of the action took place. These problems will remain until there is a comprehensive investigation of the landscape and the battle.
The nearest Tourist Information Office is in Bath.
For a battlefield location map from multimap.com CLICK HERE