Other pages about
Battle of Evesham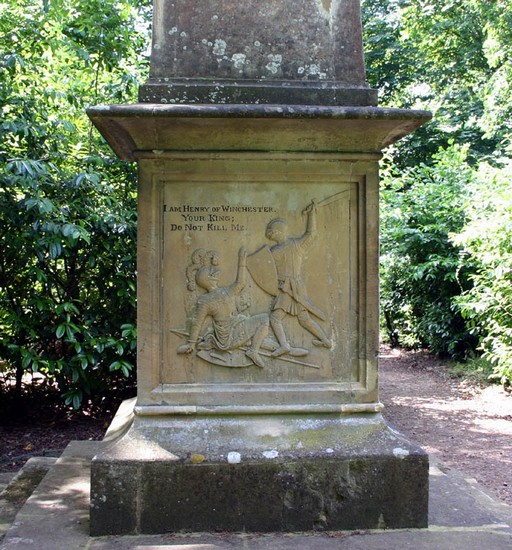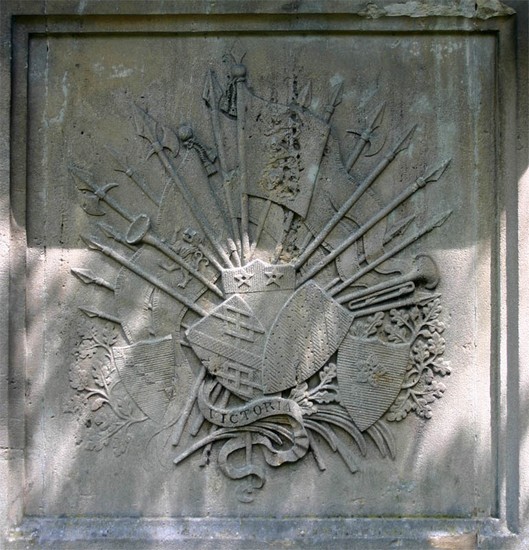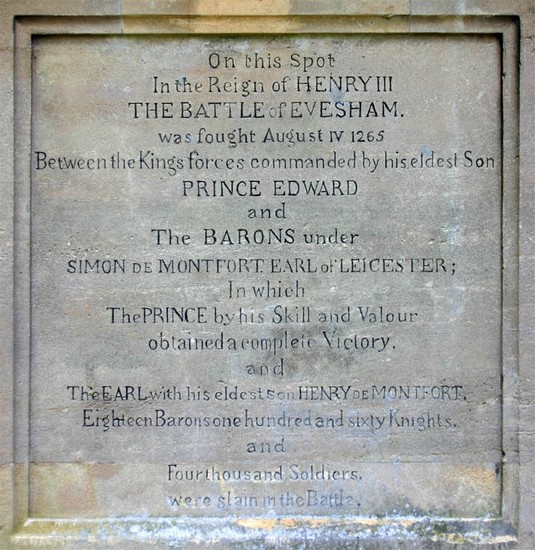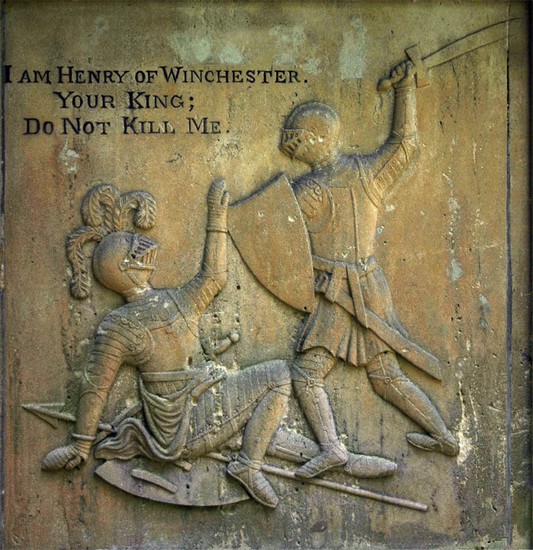 The Obelisk monument was erected in 1845 by Edward Rudge. It does not mark the site of the battle. Its location, and that of the Leicester Tower, was determined by the landscaping considerations of the parkland laid out around Abbey Manor House in the 19th century. However the obelisk site will have given a good prospect of Greenhill and of the site of the Battle Well before the trees of the Wilderness existed to obscure the view.
The main inscriptions read:
"GreateLE'STER here expir'd with HENRY his brave Sonne,
When many a high exploit they in that day had done.
Scarce was there noble house of which those times could tell
But that some one thereof,on this or that side fell:
Amongst the slaughtered men,that here lay heap'd on pyles
BOHUNS and BEAUCHAMPS were, BASETS and MANDEVILL's:
HARDREDESHULL,CREPPINGS,LE DESPENSER,BALIOL,ROWELE,
INDE. TRECBY, EINEDYELD, ASTLEY, YORK, BERMINGHAM, TROSSELL,
SEGRAVES, and SAINT JOHNS,seeke,upon the end of all,
To give those of their names their christian buriall.
Ten thousand on both sides were la'n and slain that day;
PRINCE EDWARD gets the gule, and beares the palme away.
Drayton's Polyolbion"
ON THIS SPOT
In the Reign of HENRY III
THE BATTLE OF EVESHAM.
was fought August IV 1265
Between the Kings forces commanded by his eldest Son
PRINCE EDWARD
and
The BARONS under
SIMON DE MONTFORT. EARL of LEICESTER;
In which
The PRINCE by his Skill and Valour
obtained a complete Victory,
and
The EARL with his eldest son HENRY DE MONTFORT,
Eighteen Barons one hundred and sixty knights,
and
Four thousand Soldiers,
were slain in the Battle.