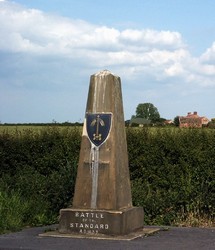 You can click on the image below to view a larger version of the image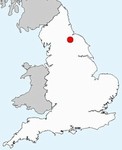 Location map
More Images - click any number below to view gallery images:
Battle of Northallerton
22nd August 1138
The battle of Northallerton, better known as the Battle of the Standard, was the first major engagement between English and Scots since the Norman Conquest. It was one of just two major battles during the Civil War of Stephen and Matilda. In most cases in the 12th century the weaker side would avoid pitched battle and concentrate on small scale action and the control of territory through garrisons and their reduction by siege. But at Northallerton, for reasons that are not clear, King David forced a battle and the English met that challenge.
The English army chose the ground, deploying across the Great North Road two miles north of Northallerton, blocking the southward advance of King David I's Scottish army. David probably was confident in his superiority in numbers and may have attempted to advance and strike the English by surprise but, despite the early morning fog, he found the English ready for him. Although outnumbered, the English forces repulsed a series of Scottish attacks. The unarmoured and supposedly 'wild' Galwegian infantry, who insisted on spearheading the Scottish attack in place of the well armoured knights, fell in large numbers to the English arrow storm. When they did reach the English lines they were generally cut down in hand to hand fighting with the local levies and the well armed and armoured English men at arms.
The English first line was at times hard pressed, but they were very effectively seconded and any breach that the enemy forced was rapidly closed. Late in the battle the Scots did mount one successful attack, when Prince Henry's small detachment of cavalry punched a hole right through the English battle formation. However this opportunity could not be exploited by the infantry that seconded the charge who, just like the Galwegians, were forced to retreat. The retreat soon turned into a rout.
After perhaps no more than two hours of fighting, the Scots began to flee, leaving many of their number dead on the field. But the victorious English were unwilling or unable to follow up with an effective pursuit and execution of the broken enemy forces. If they had, then the destruction of the Scottish army would surely have been far more complete.
KEY FACTS
Name: Battle of Northallerton (Battle of The Standard)
Type: Battle
Campaign: Northallerton
War period: Medieval: Civil War of Stephen & Matilda
Outcome: English victory
Country: England
County: Yorkshire
Place: Brompton / Northallerton
Location: probably accurate
Terrain: moorland or open field?
Date: 22nd August 1138
Start: early morning
Duration: less than 2 hours?
Armies: Scottish under King David I; English possibly under Walter d'Espec, Sheriff of York
Numbers: unknown – unlikely suggestions of up to 16,000 Scottish and 10,000 English
Losses: uncertain
Grid Reference: SE362979 (436200,497990)
OS Landranger: 99
OS Explorer: 302
Historic England Battlefields Register CLICK HERE
Historic England battlefield report for Battle of Northallerton 1138