Other pages about
Battle of Northallerton
The Battle (5)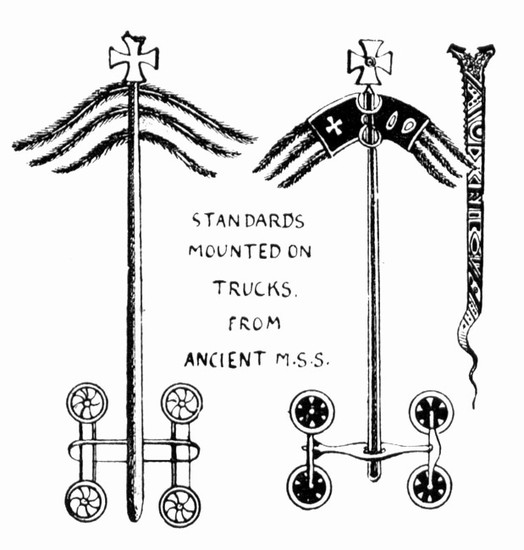 Very early in the morning the English advanced to the battlefield first and chose their ground well. Two miles north of Northallerton they deployed to control the Great North Road, along which the Scottish army had to march, and with the natural protection of marshland on their left flank.
They English had marched the 10 miles north from Thirsk to reach the battlefield, probably via what is now Brompton Lane, running north through Brompton village and thus bypassing Northallerton. The ground they chose lay a little to the south of where the Brompton Lane joins the Great North Road. From here to the crossing of the River Tees was just eight miles to the north. The Scots had crossed the Tees, presumably at Neasham three miles south of Darlington, and marched south along the Great North Road until they found their way blocked by the English army.
This campaign was being treated as a crusade against the Scots and so as a rallying point in the centre of the English battle array a Standard had been erected. It is from this Standard the battle gained its popular name.
This was a continental practice that Thurstan had supposedly seen in Italy, where they were used in battle as the rallying point for the city militia. Not apparently used before on an English battlefield, it is said to have comprised a mast of a ship set upon a wagon upon which were mounted two, possibly four standards: the banners of the northern saint St Peter of York, St John of Beverley and St Wilfred of Ripon and St Cuthbert of Durham.
The traditional location of the battle is between the two slight rises of Standard Hill, today both surmounted by farms of that name. However newly identified field name evidence, suggests that the English deployment, centred on the Standard should be placed some 3-400 metres to the south of the traditional site. This would place the battalia immediately to the south of the area known as Scot Pits, where burials are recorded as having been found in the 19th century. As Burne has noted for various other battlefields, but very specifically and inexplicably rejects at Northallerton, the location of mass graves is one of the best indicators of the centre of the action.