Other pages about
Battle of Myton
The Battlefield (2)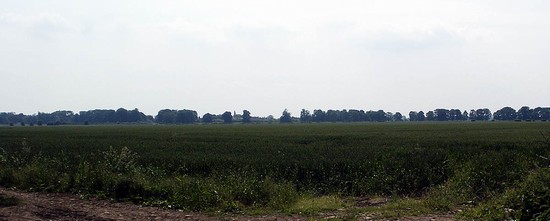 LOCATION
The location of the battlefield has been established with some confidence, but its extent to the west and north has not been securely defined, because there is so little topographical information contained in the contemporary accounts and at present there is no archaeological evidence to resolve the problem. Even the medieval Myton bridge, which is central to the interpretation of the action, is still not securely located. Neither is the historic terrain or the wider road network understood in sufficient detail to allow an adequate understanding of the battle.
HISTORIC TERRAIN
The battlefield is on low lying land on the west side of the river Swale and the north of the river Ure. Here the floodplains of the rivers are quite wide and all of this land, until enclosure in recent centuries and drainage in the 19th and 20th century, will have been hay meadow. The medieval settlements of Milby, Ellenthorpe, Humberton and another possible site at The Knowle, all lie on slightly higher ground away from the rivers. This land, mainly on sands and gravel or on silts and clays, will have been extensively exploited as the open field arable of these settlements in the early 14th century. To the north west of Humberton field names indicate an area of former moorland, shared by the various townships, but there does not appear to have been any moorland on the battlefield.
BATTLE ARCHAEOLOGY
No archaeological evidence has been identified which relates to the battle. Local tradition, recorded in the 19th century, is that the battle was fought on the west of the Swale and that many of the dead were buried in Myton churchyard. On the evidence from other battles the latter would seem unlikely, except for those who later died of their wounds. It is far more likely that the dead would have been buried in mass graves on the battlefield.