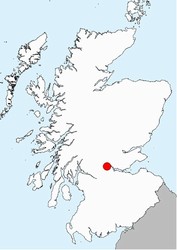 You can click on the image below to view a larger version of the image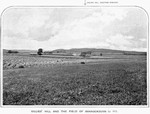 The traditional site of the battle, as it was circa 1900
More Images - click any number below to view gallery images:
Battle of Bannockburn
24th June 1314
Robert Bruce had been elected guardian of Scotland in 1298, replacing William Wallace as the leader of the long campaign against the English attempt to conquer Scotland. After the devastating defeat of Wallace at Falkirk (Falkirk, 1298) and then Bruce's own defeat at Methven (Perth & Kinross, 1306), much of Bruce's campaign took the form of guerrilla warfare, avoiding as far as possible major set piece battles. In this way he completely changed the balance of power in Scotland, through the progressive reduction of English garrisons.
By 1314 just two major strategic fortresses remained in English hands: that on the border at Berwick and that controlling the crossing of the Forth at Stirling. But the Stirling garrison finally agreed to surrender if the English king did not arrive with a relieving force by 24th June 1314. In response Edward II mustered an army of about 12-13,000 at Berwick, marching north in May and reaching Falkirk on the 22nd June.
Bruce deployed his forces in woodland south west of Stirling, through which the major road approached the town. He carefully prepared his chosen ground, beside the Bannock burn and, as the English advanced againt him, over two days of fighting achieved a dramatic victory.
A REPORT ON THE BATTLE, PREPARED FOR HISTORIC SCOTLAND BY THE BATTLEFIELDS TRUST, IS AVAILABLE FROM THE DOWNLOAD AREA ON THE LEFT