Other pages about
Battle of Byland
Visiting the Battlefield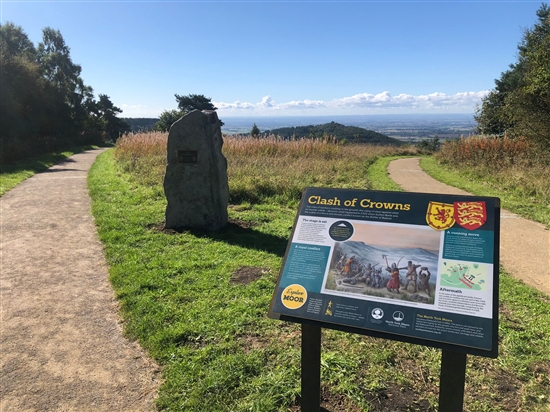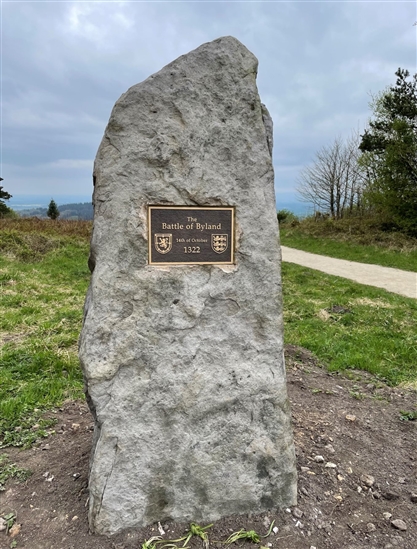 The various phases of Battle of Byland were fought over quite a wide area around the southern end of the Hambleton Hills, which perhaps explains why it can be found referred to by different names in the various sources, for example the Battle of Old Byland, the Battle of Byland Abbey, the Battle of Byland Moor, the Battle of Scawton Moor, and the Battle of Sutton Bank.
This last alternative is perhaps the most accurate in terms of location, as the main action was fought at Sutton Bank, where a medieval track climbed the escarpment, close to where the modern road runs today. The landscape has been considerably altered due to the blasting of rock to accommodate the A170, but there can be little doubt as to the location of the fighting when one matches the unique and dramatic topography with the contemporary accounts.
Today the site is readily accessible to visit, with the North York Moors National Park (NYMNP) Visitor Centre situated just a few hundred yards from the top of Sutton Bank, with ample car parking and full facilities. From there it is just a short walk to a viewing platform which overlooks the entire Vale of York (described by the author James Heriot as the 'Finest view in England') and from where one can see the line of march the Scots took from Northallerton, and where they would have deployed below the escarpment before the assault on the pass. It also affords an impressive view of the western flank of Roulston Scar, beneath which the Scots' made their flanking movement, before ascending the heights at Boar's Gill, Hell Hole, and Scotch Corner, to the south. A striking memorial stone and interpretation board mark the site of the fiercest action, just a few metres south of the Visitor Centre.
For the more energetic it is also possible to walk from Sutton Bank to Rievaulx Abbey, where Edward had his headquarters, and also to his forward post at Byland Abbey (both English Heritage), and to the villages of Old Byland and Cold Kirby, in the vicinity of which the main English army may have assembled. The entire area lies within the bounds of the North York Moors National Park and remains undeveloped, and is criss-crossed with many rights of way, bridleways, and also long-distance footpath the Cleveland Way.