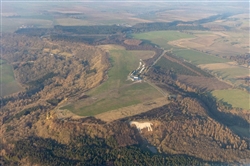 You can click on the image below to view a larger version of the image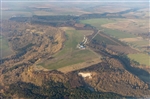 The battlefield area. Sutton Bank is at the top left; Roulston Scar – at the bottom of the photograph. The steep gully of Boar's Gill is clearly seen above and to the right of the White Horse. This was one of the routes, with Hell Hole just out of picture to the right, used by the Scots to outflank the English position. (Copyright Kim Werner 2021)
The Battlefield
According to the Close Rolls 1318-1323 the English army was to rendezvous at 'Blakhoumor'. The exact location of 'Blakehoumor' is not shown on modern maps, but has been identified by Professor Barrow as being "... a locality in the region of Old Byland." (i.e., the village situated between Rievaulx and Sutton Bank – not to be confused with Byland Abbey). It seems likely that this was the area where the bulk of the English army was stationed during the battle and possibly where the final action involving the Earl of Richmond took place.
The location of the main action can be discerned from Barbour who says the Scots made a forced night march in order to surprise Edward "So that by morning when day came they had come into open country, just a short distance from Byland, but between them and it there was a rocky brae, stretching some distance, with a broad path to go up it. There was no other way for them to go to Byland Abbey except by a very roundabout road."
Any survey of the local topography reveals that 'rocky brae' referred to can only be the imposing escarpment of the Hambleton Hills, which rises sharply from the Vale of Mowbray to the west, and the location of the action described by Barbour is surely Sutton Bank, at the point where the modern A170 snakes up the steep face of the plateau.
King Robert's second assault was made using a detached body of troops to circle round and ascend the precipitous slopes at a point hidden from the defenders by the protruding cliffs. Matching the topography to the accounts leads to the conclusion that the flanking troops would have moved south then west around the base of the cliffs, and that the rocky outcrop they climbed could only be the massive bluff of Roulston Scar. Here are two steep gullies on the southern flank of Roulston Scar, which are most likely to be the access routes used by the Bruce's men – Hell Hole and Boar's Gill. The top of Hell Hole gully is known today as Scotch Corner, possibly in reference to it being the site of the Scots' breakthrough.