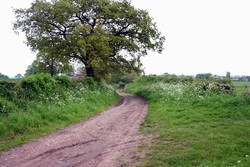 You can click on the image below to view a larger version of the image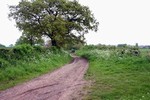 Humber Lane, looking north, where it leaves the former open field and enters the ancient enclosures around the village.
Visiting the battlefield
Stoke is not the easiest battlefield to explore because the location of the deployment of the two armies and the course of the fighting is not adequately understood and some of the best viewpoints are on private land. New interpretation panels were installed in June 2018 and a new battlefield trail launched, which offers a good overview of the battlefield and the possible deployments of the royal and rebel armies.
The walk gives a good feeling for the overall character of the terrain and enables the visitor to consider some of the tactical opportunities that existed and to review the various possible interpretations of the action. The new trail replaces the battlefield trail created in 1987 for the 500th anniversary of the battle, which long ago fell into disuse, although the interpretation panels can still be seen in the bell tower of St Oswald's Church, which you will pass as part of the trail.
Getting to the battlefield

The starting point for the walk is on Trent Lane (SK 746485), which is diagonally opposite Eden Hall Day Spa. There are laybys located on either side of the Fosse Road about 300 yards from the start of the battlefield trail. There are also bus stops outside Eden Hall for the number 90 bus route between Newark and Nottingham, which is operated by Marshall's of Sutton-on-Trent. They also operate the number 91 from Newark to Bingham, which also stops outside Eden Hall.
Facilities
The nearest pub is in Flintham or Farndon
For a battlefield location map from multimap.com CLICK HERE
For a copy of the Nottinghamshire County Council Battlefield Trail Leaflet and videos about the battle CLICK HERE