Wars of the Roses
1450-1487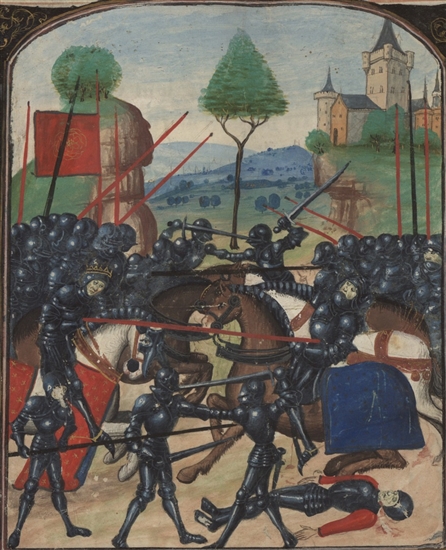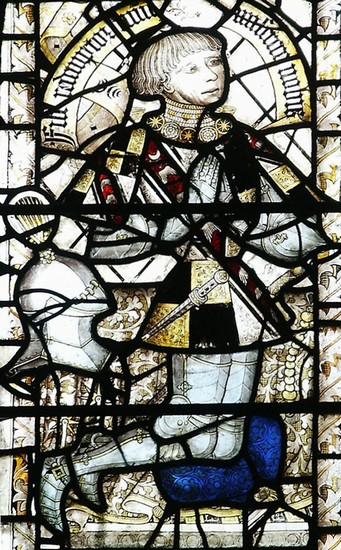 The struggle that developed into a battle for the English throne and became known much later as the Wars of the Roses, arose from both political and economic factors. The Hundred Years War had by the 1440's turned against the English, and the financial burden of the war for England, with no further victories in sight, led to dissatisfaction with the government of Henry VI and his ministers. In 1450 Henry's principal minister, the Duke of Suffolk, was murdered en-route to a forced exile, and Jack Cade's rebellion in Kent provided a focus for ordinary people's grievances against what they perceived to be a corrupt court party.
The character of the young king Henry VI made him rely upon a court faction rather than a wider representation of his nobility. Richard, Duke of York, a member of the royal family who had arguably a better claim to the throne than Henry, had been Lord Lieutenant in France and then Ireland, but felt excluded from direct access to the king. He blamed the influence of Edmund Beaufort, Duke of Somerset, as the main reason for this.
Despite York's becoming 'Protector of the Realm' twice after Henry VI's sudden 'breakdowns' made him incapable of government, the old status quo returned once Henry recovered. York joined forces with the Neville family in the persons of Richard, Earl of Salisbury,( York's brother-in-law), and his son Richard, Earl of Warwick, who had their own reasons for disliking those close to the king.
The Wars themselves may be broken down into three phases:
- 1455-1461.The struggle to control Henry VI, and later to supplant him by York's son, Edward, Earl of March.
- 1461-1471. The challenges to the Yorkist Edward VI from ongoing Lancastrian resistance, and the disaffection of Richard, Earl of Warwick. Includes Henry VI's readeption, up to the deaths of both Henry and his heir, Prince Edward.
- 1485-1487. Opposition to Richard III's taking the throne with the declared illegitimacy, and then disappearance, of Edward IV's sons, known as 'The Princes in the Tower'. Edwardian Yorkists allied with Lancastrians in support of a Tudor claimant, Henry, Earl of Richmond. Following his victory at Bosworth, Henry VII's defeat of Yorkists supporting 'Lambert Simnel' and his alleged claim to the throne at the battle of Stoke Field.
Henry VII's marriage to Edward IV's daughter, Elizabeth of York, united the rival houses of Lancaster and York as the house of Tudor.
Battle locations for Wars of the Roses