Other pages about
Battle of Mortimer's Cross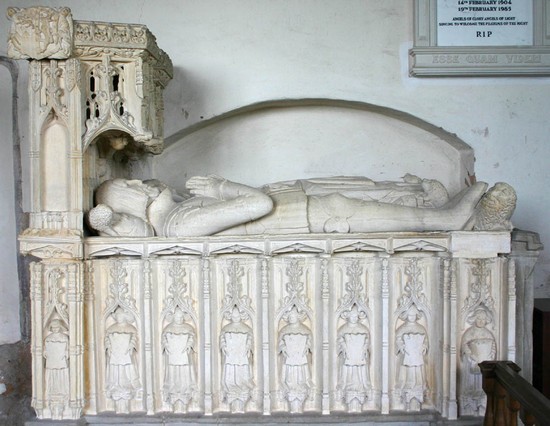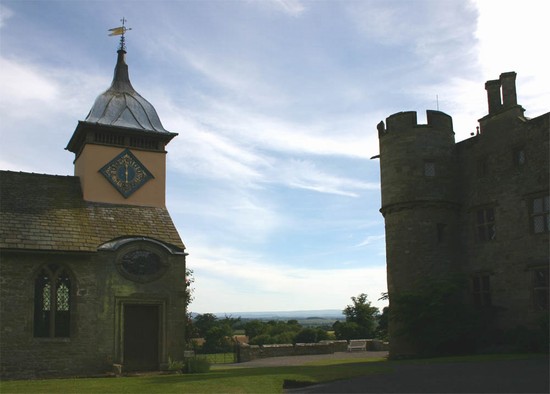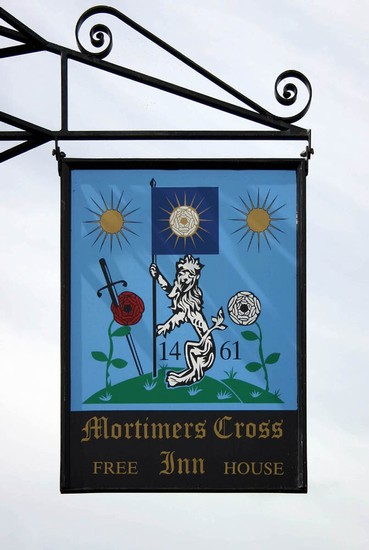 NEARBY SITES RELEVANT TO THE BATTLE
Croft Castle
It used to be thought that the battle had been viewed from the battlements of the present Croft Castle, which was the home of Sir Richard Croft, as significant local supporter of the Yorkists cause, who fought for Edward at Mortimer's Cross and Towton, but then for Henry VII at Stoke Field. It is now known that the present building is a 17th century construction, the castle having been destroyed in the Civil War if not before. Croft Castle is a National Trust property just 2 miles to the east of Mortimer's Cross and is well worth a visit. There is an effigy of Sir Richard in the church, which lies in the grounds of Croft Castle, immediately opposite the house.
To search the National Trust website for further information CLICK HERE
Mortimer's Cross Mill
There is no interpretation on the battlefield, but there is a small room devoted to the battle in the water mill immediately on the east side of the bridge over the river Lugg at Mortimer's Cross. It is open to the public but access to the mill is £4.50 and it is not worthwhile just for the few items of information that it provides on the battle. The same amount would be far better spent on a copy of Hodges' book on the battle. However the watermill itself is an exceptionally well preserved and restored example and well worth a tour, with the battle room as a small added bonus. Opening times and days are uncertain as the site recently changed hands.
Inns
The Mortimer's Cross Inn has, or did have, a plan of the battle, as well as a sign which commemorates the battle. The Monument Inn was closed, possibly for refurbishment, when we visited the battlefield in June 2004.
NEARBY BATTLEFIELDS
The nearest battlefields to Mortimer's Cross that are described on this website are Shrewsbury (35 miles) and Worcester / Powick (26 miles). There is also the battlefield of Ludford Bridge (near Ludlow: 16 miles) which, though not described here, is examined in detail in: Hodges, Geoffrey. Ludford Bridge & Mortimers Cross. Little Logaston: Logaston Press, 2001.
OTHER PLACES OF MILITARY INTEREST
Wigmore Castle
A great medieval castle of the Earls of March which some authros link to the battle of Mortimer's Cross.
To search the English Heritage website for further information CLICK HERE
Weobley Church
Weobley church where there is a marble effigy of Colonel John Birch, the parliamentarian commander from the Civil War. (8 miles.)
Hereford Museum
Hereford Museum & Art Gallery no longer has a permanent exhibit on the battle of Mortimer's Cross. However they do from time to time have temporary exhibits on the battle and related artefacts. Their major artefact believed to be associated with the battle is a 'barbuta' helmet found in the River Lugg. The museum will provide access, for individuals and groups, to view the helmet when it is not on display.

Roaring Meg, a mortar from the Civil War that was cast at Hereford for the siege of Goodrich Castle, is also on display at the museum. (15 miles)
For opening times, location and other information on Hereford Museum CLICK HERE
Ludlow Castle
A visit might also be linked with a visit to Ludlow Castle (16 miles).
For more information on the castle CLICK HERE