Other pages about
Battle of Bosworth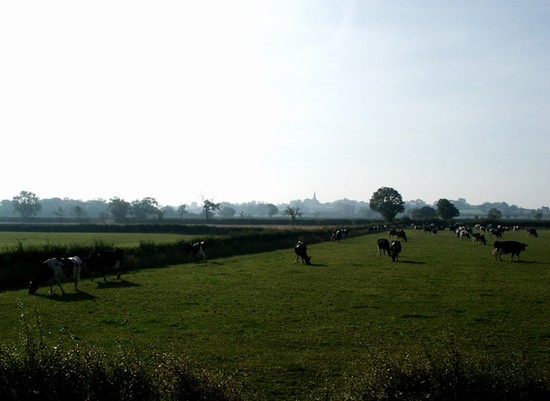 The battlefield, an area once known as Redemore, is a wide, flat bottomed basin with impeded drainage, surrounded by higher ground mainly on the south and east. It lies to the north of Stoke and Dadlington in the townships of Dadlington, Stoke Golding, Shenton and Upton, each of which appear to have been allocated part of this lowland wet moor.
The vast majority of this area was open field during the medieval period, although it is possible that some of the furlongs had been converted to permanent grass, though not enclosed, or even abandoned and allowed to revert to furze or heath by the time of the battle.
Only a limited part of the landscape was marshland in 1485 , but it was a critical piece of the battlefield terrain because Henry's army used it as protection during its all important outflanking move. Today the marsh has gone, having already been drained by the later 16th century, but its location has been established from evidence of relief, geology and fieldnames.
The Fenn Lanes Roman road is undoubtedly the route by which the rebel army approached the battlefield. Today it still crosses what was Redemore and passes through the centre of the area of former marshland. Richard is said to have been killed at Sandeforth. All previous discussions as to the location of Sandyford are flawed and even Foss's suggested that it may be where the Fenn Lanes crossed the marsh in Redesmore lacks secure evidence.