Events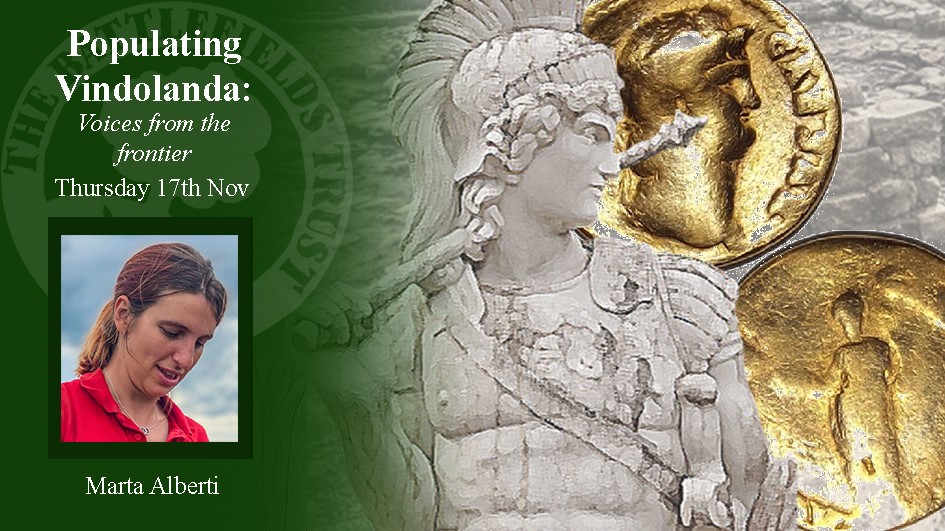 Battlefields Trust online lecture: Populating Vindolanda: voices from the frontier
Thursday 17th November 2022
'Vindolanda, a Roman fort and extramural settlement on Hadrian's Wall, was originally founded in AD 85 and was populated until at least AD 700, by a variety of military personnel as well as non-combatant families.
In this talk, Marta Alberti- the Vindolanda Trust's Deputy Director of Excavations'- will guide us through the many phases of Vindolanda's occupation, using the treasures unearthed in more than 50 years of continued excavations to shed some light on the voices from this frontier outpost. From the famous Vindolanda Tablets, letters and documents from the early forts to the only example of leather boxing gloves known the Roman Empire, from the 5000 shoes in the Vindolanda collections to the many more thousand ceramic sherds in its storages, every piece of evidence constitutes a charming and informative piece of a puzzle'
Marta joined the Vindolanda Trust in 2015 to assist in the supervision of the excavations as well as the delivery of the rich research program that the Trust pursues. Her day to day tasks range from teaching field excavation, recording and surveying techniques to volunteers to processing the data collected through excavation and working on publications.
Her specialist subjects are textile implements on the frontier and their relationship to female identity, as well as volunteer participation to archaeology on Hadrian's Wall. On the latter subject she is pursuing a part-time PhD at Newcastle University.
When she is not digging, studying or writing she can be found reading a fiction book or cooking a delicious Italian meal.
This presentation is exclusive to Battlefields Trust members. It starts at 8pm and booking will be online in response to a Mailchimp invitation sent to all members
For further information.