Other pages about
UK Battlefields
Scottish Battlefields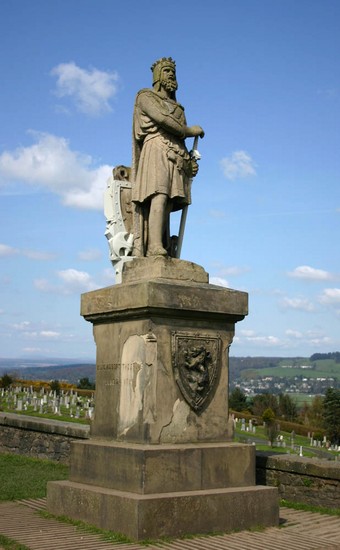 In 2004-5, with a grant from Historic Scotland, the Battlefields Trust carried out an assessment of Scottish Fields of Conflict. The report and the associated gazetteer was prepared to assist them in defining the most appropriate management strategies for Scotland's historic fields of conflict and to provide guidance on this to Council Archaeologists and others involved in the management of the resource.
In the assessment of individual sites priority was given to their potential as archaeological monuments, where the archaeology of the battle and battlefield offers the potential to develop a better understanding of the individual actions. Memorialization and related issues were not a primary objective, although data was recorded where incidentally identified.
This was a desk based project working largely from secondary sources plus data from the National Monuments Record of Scotland and most Sites and Monuments Records in Scotland. The Battlefield Trust's UK Fields of Conflict database has been enhanced to provide an initial listing of sites. This does not claim to represent comprehensive coverage of all sites, though it seeks to include all located battles as well as iconic lesser actions. The actions have been classified according to scale and character, to enable comparative study across the UK and to allow Scottish actions to be viewed in a wider Western European context. Siege sites, that is military actions consisting primarily of assaults upon heavily fortified sites, and naval actions were excluded because they represent a distinctly different resource which requires separate assessment.
Each site was classified according to the type of action, distinguishing battles from skirmishes, clan warfare and other events of civil unrest. A bibliography of secondary sources was compiled from a specified list of battlefield and related publications to provide an initial assessment of perceived cultural importance of each site.
Twenty of the highest scoring actions were then selected for more detailed examination. These are reported upon in the gazetteer, with a brief description and assessment, supported by a more extensive bibliography and maps. These entries do not claim to represent a comprehensive statement on the current state of knowledge of each site, though where practicable the most recent publications on the battle and battlefield have been consulted.
The Report provides an overview defining the character of the Scottish resource by type of action, and spatial and chronological distribution; reviews the character of the physical evidence for battles and battlefields and the type of threats to that resource. Finally a series of recommendations are given for further action.
DIGITAL COPIES OF THE TEXT OF THE REPORT, THE APPENDICES, AND THE GAZETTEER (excluding maps), COPIES OF EACH OF THE NATIONAL DISTRIBUTION MAPS, AND A SUPPORTING BIBLIOGRAPHY FOR SCOTTISH BATTLEFIELDS, IS AVAILABLE FROM THE DOWNLOAD AREA ON THE LEFT HAND SIDE OF THIS PAGE.
THE TEXT AND MAPS FOR EACH BATTLEFIELD IN THE GAZETTEER ARE AVAILABLE ON THE INDIVIDUAL BATTLE PAGES WHICH CAN BE FOUND USING THE SEARCH BUTTON AT THE TOP OF THIS PAGE
Following this work Historic Environment Scotland published an inventory of historic battlefields in 2011. This was augmented in 2016. Further information on the Inventory can be found at the link HERE