News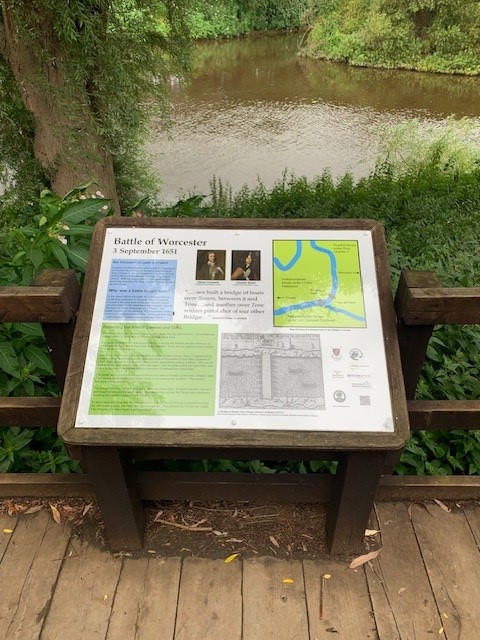 Worcester battlefield information board replaced
3 August 2023
An information board marking the location of two bridges of boats which Oliver Cromwell used to win the battle of Worcester in September 1651 has been replaced following damage to it caused by flooding.
The board was originally installed in 2018 on the banks of the river Severn opposite its confluence with the river Teme. In 1651 this location saw two bridges made of pontoons and planks floated into position, firstly across the Severn and then the Teme, as part of parliamentarian efforts to defeat an Anglo–Scottish army under Charles II.
Severe flooding in 2019 resulted in the board and supporting platform being submerged for a period, which caused bad water damage to both.
The Battle of Worcester Society, which led the original project partnership involving the Battlefields Trust, Cromwell Association, Betts Ecology and the local Museums Service, worked with them again to renovate the platform and lectern.
A new information board has also been printed which incorporates a modified design that makes it easier for users to orientate themselves in the landscape when reading the board.
Acknowledging that any information board by the river Severn will always be at risk from flooding, Battlefields Trust regional chair, Anthony Rich, praised the efforts of the Worcester Battlefields Society in leading work on the necessary repairs:
'They have done a sterling job responding to the flood damage and working with the Battlefields Trust and our mutual friends to get the board and platform looking better than ever', he said.