News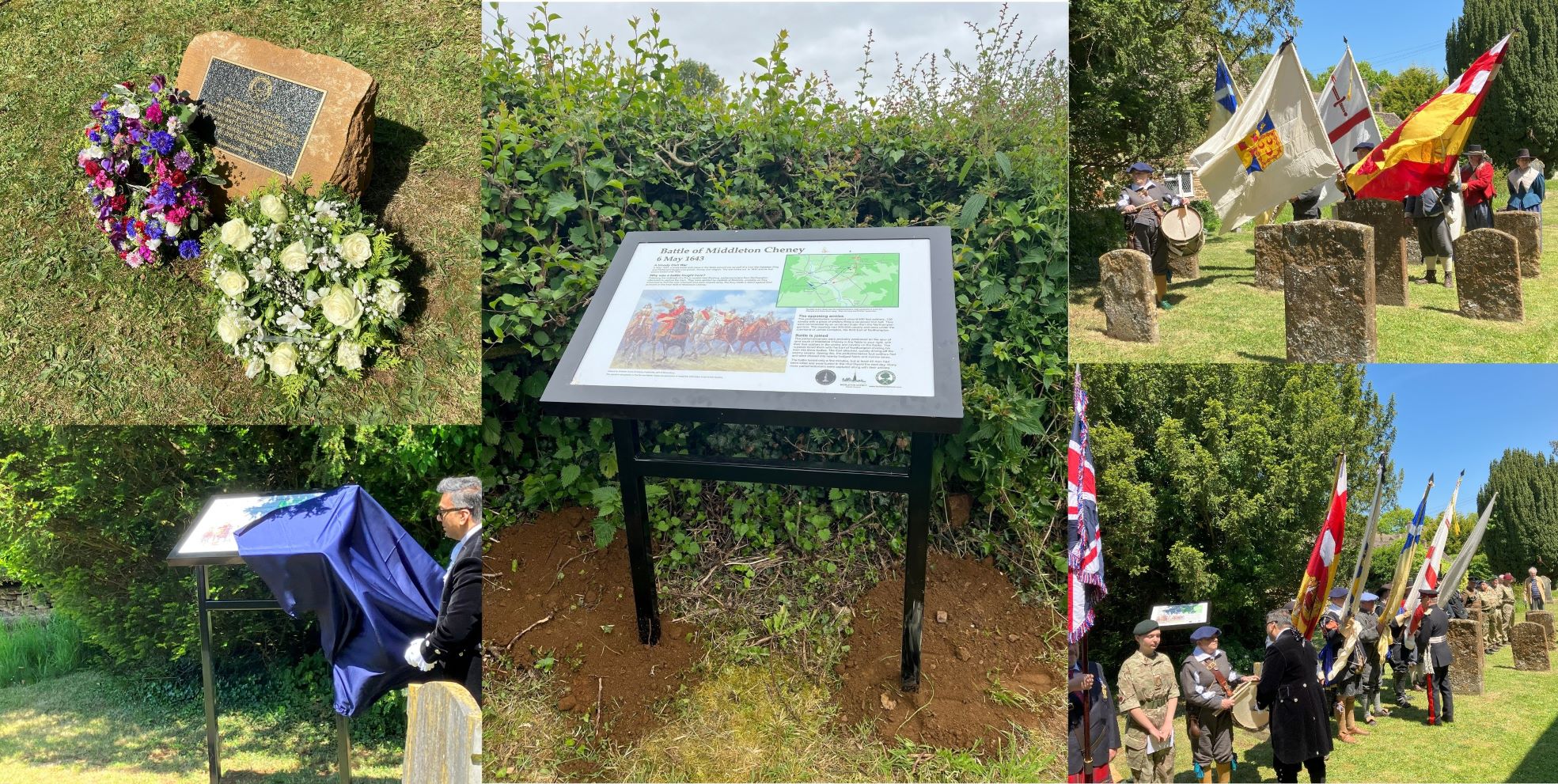 New Civil War battlefield memorial and information board unveiled at Middleton Cheney
6 June 2023
A memorial plaque to the 46 soldiers killed in a battle fought in 1643 at Middleton Cheney, and an information board explaining what happened there have been unveiled in the village.
A well-attended opening ceremony for the memorial and information board was held at All Saints Church in Middleton Cheney on Sunday 4 June.
Following a short remembrance service for the dead from the battle and other conflicts led by the Rev. Nicholas Leggett, the Lord Lieutenant of Northamptonshire, James Saunders Watson, unveiled the memorial plaque.
The county's High Sheriff, Milan Shah, revealed the information board, which had been generously donated by the DHB Group at Chacombe and will be permanently installed close to the battle site.
Members of the Royal British Legion and the Sealed Knot both provided guards of honour during the ceremony, with members of the armed forces in attendance.
Local resident Nicholas Haynes initiated the project in 2019, enlisting the help of local people and the Battlefields Trust, a national charity promoting battlefield heritage. Nick tragically died in an accident in 2021, but his widow, Ulrika, resurrected the project and, with the help of a local group of supporters and the Battlefields Trust, saw the project to completion.
'Nick would have very much enjoyed being here today, seeing his project come to fruition with the help of so many local people' said Ulrika. 'Middleton Cheney has no reason now to forget its Civil War history' she added.
Gregg Archer from the Battlefields Trust also paid tribute to the efforts of local people on the project and in organising the opening ceremony.
'This has been a whole community effort to celebrate the village's battlefield heritage and create a legacy for Nick Haynes, whose project this was', he said.
The battle of Middleton Cheney was fought on 6 May 1643 and saw a parliamentarian force from Northampton defeated by two regiments of royalist cavalry under the command of the earl of Northampton.
The project was supported by Middleton Cheney Parish Council, Northamptonshire Battlefields Society and Parkland Fencing Limited.
For more information on the battle and to download a walking trail of the battlefield area visit the Battlefields Trust website at https://www.battlefieldstrust.com/resource-centre/battleview.asp?BattleFieldId=99. The Freedom and Sacrifice website developed by Nicholas Haynes also holds information on the battle and the project.