News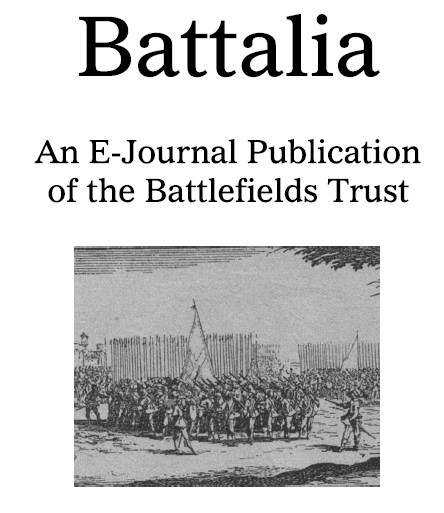 Battlefields Trust Journal - Call for submissions
20 October 2022
Battalia is the interdisciplinary academic journal of The Battlefields Trust, dedicated to the study of battles, battlefields, and military campaigns across the world. Its scope covers any period and geographical location. It is a free, fully open-access, online and peer-reviewed publication.
The editorial board of Battalia welcomes original submissions of all kinds that relate to the journal's broad topics and scope, are based on primary research, and are appropriately referenced. We are willing to consider pieces of any length between 2,000 and 15,000 words. These may include:
Articles – typically around 6-10,000 words including references, but longer pieces may be considered.
Archaeological reports, both interim and final.
Short articles in which an author summarises a book they have published.
Short articles summarising work in progress or small but significant research findings.
Primary document transcripts or translations, with commentary or annotations.
Guides to research on a specific topic.
Academic book reviews or review articles.
Replies to previously published articles (note that these should also include primary research, and not simply constitute commentary or opinion pieces).
Work from PhD, MA or undergraduate dissertations (for work over 15,000 words the submission of extracts or an article summarising findings is encouraged; outstanding work up to 15,000 words may be published in its entirety, either in original form or a reworked format).
If you have shorter or more general pieces you may wish to consider submitting to The Battlefields Trust Magazine, which carries news and shorter articles.
We welcome submission from people of all academic status or backgrounds, including independent researchers, academics, postgraduate researchers and students, and from both members and non-members of The Battlefields Trust.
The journal is published on an annual basis but, as part of our commitment to open-access publication, submissions will appear online as soon as feasible after acceptance.
Please see https://www.battlefieldstrust.com/journal/ for further information and author guidelines. Submissions may be made at any time to journal@ukbattlefieldstrust.onmicrosoft.com
Battalia Editorial Board
Charles Esdaile (convening editor), Rachael Whitbread (convening editor), Graeme Callister (convening editor), Anne Curry, Will Reid, Ismini Pells, Sophie Ambler