News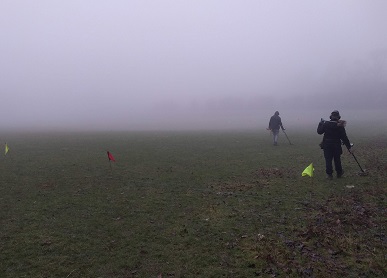 Stow (1646) battlefield survey: Further finds point to the location of the battlefield
23 January 2022
In mid-January 2022 the Battlefields Trust's Merica region conducted further battlefield survey work at Stow-on-the-Wold to try and locate the 1646 battlefield. This follows investigations undertaken in 2015, 2018, and 2019.
The work involved members of the region and a team of archaeologists under the direction of the Battlefields Trust Archaeological Advisor, Sam Wilson.
Areas to the north of those investigated by the Trust in 2018 and 2019 were examined in the most recent work. Finds associated with the battle included powder caps and lead bullets, though these seemed to peter-out the further away from Stow the search was conducted.
Joint Chair of the Mercia Region, Simon Marsh, said 'the survey conducted this January seems to support the view that the battle was fought closer to Stow than has hitherto been judged.'
'We now need to review the finds, map the evidence, and understand how it relates to the landscape at the time of the battle and the primary accounts of the fighting'.
A report on the survey work conducted at Stow will be started shortly.