Sir Gilbert Gerard Memorial
Does the monument still exist?
[He]re lies Sr Gilbert Gerard, knt, descended of [the] honourable family of Gerard, of Brin in Lancashire who after [ ] in foreign wars, [ ]ed to serve his owne [king?] [ ] Country after many comands was made Leiftenant G[ene]rall of this County and Governor of this City in which [?]ed much beloved [and died?] most lamented in the 49th y: of his Age of grace. 1644
The stone is cracked and worn, with some of the words of the epitaph illegible.
Sir Gilbert Gerard was a royalist colonel and Governor of Worcester from late 1643 until his death in early 1645.
LEARN MORE IN THE BATTLEFIELDS HUB
LOCATION DETAILS
Worcester Cathedral Chapter Office, 8 College Yard, Worcester. WR1 2LA
Location within building:
Against the west wall of the crypt.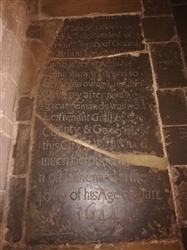 ---
LEARN MORE IN THE BATTLEFIELDS HUB
Featured & Newly Added Memorials