2nd Duke of Hamilton Memorial Plaque
Does the monument still exist?
In the sacrarium of this cathedral rests the body of William, second Duke of Hamilton, Castle Herald, Marquess Douglas and Clydesdale, Earl of Angus, Arran, and Lanark, Baron of Aven, Polmont, Machanshire, Innerdale, Abernethy, and Jedburgh Forest, one of his majestys most honourable Privy Council and Knight of the most noble Order of the Garter. Born Dec 14th 1616, died of wounds received at the Battle of Worcester September 12th 1651 in the 35th year of his age.
This bronze has been erected to perpetuate the memory of a zealous patriot and a noble example of valour and wisdom who took an important part int he civil war of 1651 and was mortally wounded at the Battle of Worcester while leading the final charge. He died at The Commandery in this city and was interred before the high altar of this cathedral in a space indicated by a floor brass within the enclosure of the sanctuary.
Internal plaque, polished and looked after well.
LEARN MORE IN THE BATTLEFIELDS HUB
LOCATION DETAILS
Worcester Cathedral Chapter Office 8 College Yard Worcester WR1 2LA
Location within building:
Wall of the North Choir Aisle
SO 85002 54521 apple.acute.draw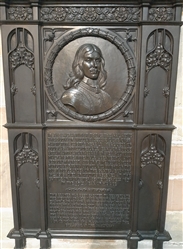 ---
LEARN MORE IN THE BATTLEFIELDS HUB
Featured & Newly Added Memorials