Events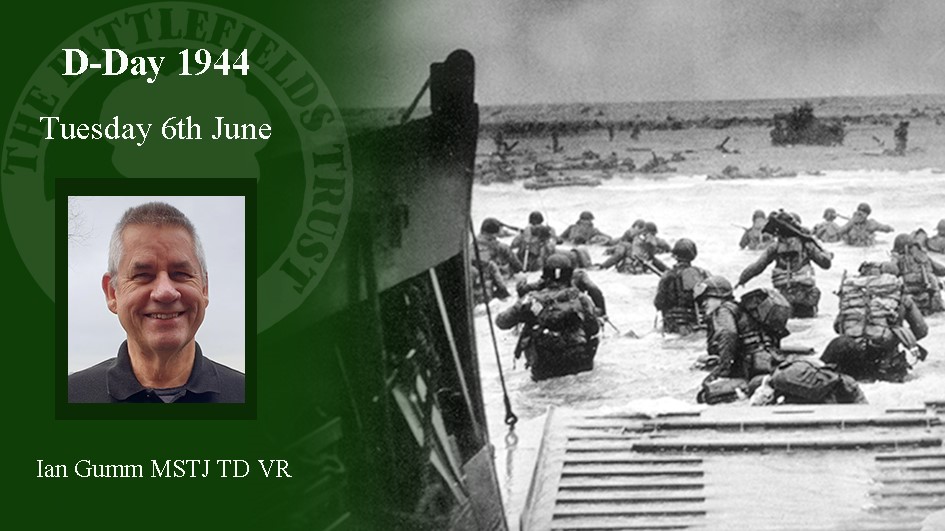 Battlefields Trust online lecture: D-Day 1944
Tuesday 6th June 2023
Operation OVERLORD, the Allied invasion of Northwest Europe, was the largest amphibious assault and one of the riskiest military operations to have ever taken place. It took more than two and a half years to plan and involved almost three million Allied service personnel from thirteen participating Allied nations. It began on 6 June 1944, a day we now know as D-Day. In the early hours Allied airborne troops dropped to secure the flanks, at 06:30 the American seaborne forces began coming ashore at the western end of the invasion area and an hour later the British and Canadians followed and came ashore to their east. In this talk, Ian will give an overview of D-Day – that day-of-days that changed the course of history and marked the beginning of the end for Adolf Hitler's Third Reich and the Second World War.
Ian is the CEO and founder of In The Footsteps as well as being a full-time professional battlefield historian and guide. He is an accredited (badged) member of the International Guild of Battlefield Guides, a member of the Society for Army Historical Research (SAHR), Western Front Association and Last Post Association and a registered tour guide with the European Tour Operators Association. He was the winner of the International Guild of Battlefield Guides 'Will Townend' Award, which is voted upon by the Guild's membership and presented retrospectively in recognition of the contribution made by a member over the preceding year.
He has served in the British Armed Forces with the Army Reserve for over thirty years. He had the privilege of commanding B (Rorke's Drift) Company of the 2nd Battalion, the Royal Regiment of Wales (24th/41st Foot) as well as being the Training Major for Wales University Officer Training Corps. In the latter years of his military career Ian served as a Staff Officer in a variety of roles in 160th Infantry Brigade and Headquarters Wales. Ian now holds the post of Deputy Colonel Cadet in Wales.
8pm start. Members will receive a Mailchimp with details on how to register.
For further information.