Battlefield Trails Opening Ceremony 28 October 2007
A wet and windy day greeted the approximately 170 people who turned out at Syon Park to see Professor Richard Holmes, the well known TV military historian, and the Mayors of the London Boroughs of Hounslow and Ealing open the Heritage Lottery Fund supported Brentford and Turnham Green battlefield trails on 28 October 2007.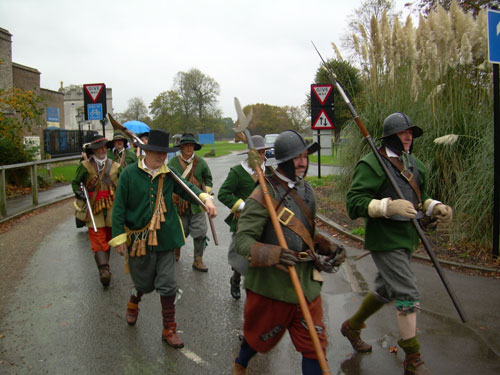 Soldiers from John Hampden's regiment march from Syon House to the Brentford opening ceremony
The Brentford opening ceremony took place at 11:30am by one of the six information boards installed outside the garden centre at Syon Park to support the trail.  Re-enactors from John Hampden's regiment of foot provided an honour guard and brought some civil war authenticity to the day's proceedings.
Following a brief introduction by Simon Marsh, the leader of the project for the Battlefields Trust, Professor Holmes opened the trails, describing the events of November 1642 and setting their importance in context.
Frank Baldwin, Chair of the London and South East Branch of the Battlefields Trust, thanked those who had supported the project from the Brentford and Chiswick Local History Society, Hounslow Heritage Guides, John Hampden Society and Syon Park as well as the Heritage Lottery Fund for sponsorship, information boards and leaflet designer Toni Marshall, and the board manufacturers, Pryorsign.  He then officially donated the boards situated in the borough of Hounslow to the Mayor of Hounslow who made a short speech accepting the boards and thanking those other individuals who had not been named for their involvement.
The soldiers from John Hampden's regiment then provided several salutes of musket fire.
A lunch reception followed in the Alnwick room at Syon House before the participants travelled to Turnham Green Terrace for 2:30pm to open the Turnham Green leg of the trail.  The speeches were repeated for the 60-70 people who had turned-up to watch at the Turnham Green Terrace information board and the Mayor of Ealing accepted the information board on Acton Green from the Battlefields Trust on behalf of the borough of Ealing.
Led by John Hampden's regiment of foot, the dignitaries then marched across Acton Green to see the information board situated on its far side.  The Hampdens' historic counterparts had marched in the same direction during the battle of Turnham Green in November 1642, though a few hundred metres to the north; seeing them repeat the march almost 365 years to the day was one of the highlights of the opening ceremonies.
Following further photographs of the Mayors of Hounslow and Ealing by the information board, the day concluded with the Hampden's leading those involved in the ceremonies back across Acton Green to the beat of a soldiers drum.