John Hampden's Regiment of Foot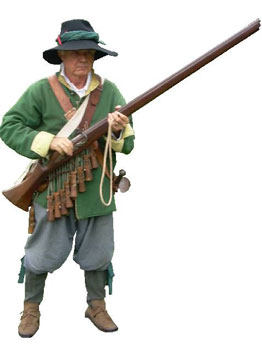 Hampden was an MP and Knight of the Shire for Buckinghamshire. He was well known for his opposition to the crown's prerogative powers and was one of the five members of the House of Commons that the King attempted to arrest in January 1642. Hampden received his commission to raise a regiment of foot on 30 July 1642. He recruited it quickly, largely in Buckinghamshire, and by 16 August had 400 men under arms at Aylesbury. Hampden received £1,500 to pay his regiment on 20 August and was issued with 1,000 green coats for his men on 23 August after it had fought in one of the early skirmishes of the Civil War at Southam on 22 August.
The regiment advanced from Southam to Coventry before joining up with the bulk of the Earl of Essex's army at Northampton on 31 August. The regiment was presumably augmented at Northampton with new recruits and trained. It held its first general muster on 16 September. At this time the regiment probably consisted of over 800 men and was officered as follows:
Colonel John Hampden (Captain-Lieutenant Maurice)
Lieutenant Colonel Joseph Wagstaffe
Sergeant Major William Barrife
Captain Richard Ingoldsby
Captain Nicholls
Captain Henry Arnott
Captain John Styles
Captain Robert Farington
Captain John Raymond
Captain John Bromhall
Hampden's regiment marched with the rest of Essex's army from Northampton to Worcester in mid-September. By mid-October it numbered 963 men. When the army left Worcester to pursue the King on 19 October, the regiment was ordered to guard the slow moving train of siege artillery that was soon around a day's march behind the main army. Consequently, the regiment arrived late at the battle of Edgehill, but is known to have participated in the fighting as seven wounded soldiers from the regiment were recorded as being treated at Warwick after the battle.
Hampden returned with his regiment to London with the rest of Essex's army, arriving back in the capital on 7 November. From 10 or 11 November his regiment appears to have been at Acton and covered the retreat of the broken parliamentarian regiments of foot from Brentford on 12 November, probably at Turnham Green. On 13 November, the regiment was one of the most active at Turnham Green, being involved in the outflanking manoeuvre on the royalist left.
On Hampden's death in June 1643, following his mortal wound at the battle of Chalgrove, the regiment was transferred to the command of Thomas Tyrell. Richard Ingoldsby succeeded Tyrell and commanded the regiment until it was incorporated into the New Model Army in 1645.