The Royal Army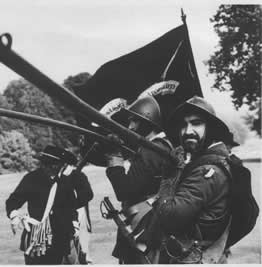 When Charles I began to realise that the breach with Parliament was irreparable he began to raise an army and prepare for civil war. At York in May 1642, he issued commissions to local gentry to either take control of the trained band units in the county or to begin to raise soldiers independently. By the middle of the month a troop of cavalry had been formed, known as the Prince of Wales' troop, and a number of trained band regiments were under command of officers loyal to the crown.
From June 1642, with the likelihood of war growing, the king wanted to increase the military resources available to him and, without the option of parliamentary approval to raise troops, used the Commission of Array as a means to recruit an army. Commissions were issued for each county and major city and named leading men there who might be expected to support the royal cause. These men were charged with taking control of military affairs in their locale and consolidating the militia and magazines for the king.
However the response to the Commissions of Array was limited and from the second half of July 1642 Charles adopted the method first used in Yorkshire in May, issuing commissions to individuals to raise soldiers, but now at their own expense.
Commanders
The king created the command structure for the new army by appointing its senior officers. Robert Bertie, the Earl of Lindsey, was made Lord General, Sir Jacob Astley was Major General of the foot and Prince Rupert the Lieutenant General of the cavalry.
The Foot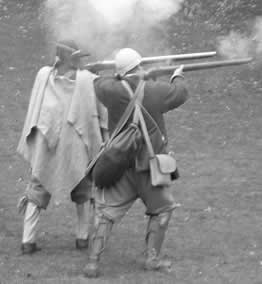 Sir Ralph Dutton and Sir William Pennyman, who had commanded one of the Yorkshire trained band regiments against the Scots in 1639, were commissioned to raise regiments of foot in July 1642. Elements from the regiment commanded by Henry Belasyse, which was paid from royal funds from at least 14 July, may have been transferred to his younger brother, Sir John Belasyse, in August 1642 and could therefore claim equally early antecedents. John Belasyse's Yorkshire soldiers were subsequently augmented with recruits raised in Nottinghamshire to a total of around 1,000 men.
Sir Thomas Lunsford also had a commission to raise a regiment of foot in Somerset by late July 1642 and within a week had around 240 men under command, probably recruited from the Somerset trained bands or soldiers who had served with him in the north in 1640. Other commissions seem to have been issued in early August, including those of Sir Lewis Dyve's and Richard Bolle's regiments of foot.
Throughout August and September 1642, Charles persisted with this approach. In Cheshire, commissions to raise foot regiments went to Earl Rivers and Sir Edward Fitton. In Wales Sir Thomas Salisbury, John Owen, John Herbert, Sir Edward Stradling and the Earl of Carbery were similarly tasked, as were Sir John Beaumont in Staffordshire and the Earl of Northampton. In Lancashire foot regiments were raised by Sir Gilbert Gerard, Charles Gerard and Lord Molyneux.
The Horse
Commissions were also issued to individuals to raise regiments of cavalry and members of the court agreed in late June to pay for a total of around 2,000 cavalry for a three-month period. Lord Grandison had two troops of cavalry in his regiment by late July, Lord Wilmot was recruiting troopers for his regiment by 5 August and Sir Thomas Aston started recruiting his regiment in September 1642. Sir John Byron was raising troopers from late July 1642 after receiving £5,000 'mounting money' from the Marquis of Worcester. Elements of Prince Rupert's, Prince Maurice's, Lord Digby's and the Earl of Carnarvon's regiments of cavalry, which fought at Powick Bridge on 23 September, are likely to have formed part of the 800 or so cavalry Rupert was commanding at Leicester in late August 1642, implying that the commissions for these forces were issued sometime earlier.
Dragoons
Some commissions must also have been issued for raising dragoons, as the king had 800 at Uttoxeter on 14 September. Sir Edward Duncombe, one of the king's dragoon Colonels, had been the Lieutenant Colonel in Sir Robert Strickland's trained band regiment which had attended the king at York and is therefore likely to have been one of the first officers commissioned to raise dragoons.
The Royal Army during the Edgehill Campaign
By mid-September the king had five foot regiments, 500 cavalry, 800 dragoons and a train of twelve pieces of artillery. These were augmented by the regiments being raised in Wales and the Marches in the early autumn. Three further foot regiments from Lancashire joined the army around Wolverhampton or Birmingham in mid-October 1642.
On the eve of the battle of Edgehill (23 October 1642), the first major action of the war, the royal army consisted of the following:
Regiments of Foot (circa 11,000 men in total)
The Lifeguard
Sir Edward Stradling
Lord General's regiment
Sir John Beaumont
Earl of Nothampton
Sir Gilbert Gerrard
Earl Rivers
Sir Thomas Salisbury
Lord Molyneux
Charles Gerrard
Sir Lewis Dyves
Thomas Blagge
Sir Ralph Dutton
John Belasyse
Sir William Pennyman
Richard Feilding
Sir Thomas Lunsford
Richard Bolle
Sir Edward Fitton
Regiments of Horse (circa 2,750 men in total)
The Lifeguard
Lord Wilmot
Prince of Wales
Lord Grandison
Prince Rupert
Earl of Canaervon
Prince Maurice
Lord Digby
Sir John Byron
Sir Thomas Aston
Regiments of Dragoons (circa 1000 men in total)
Colonel James Usher
Colonel Sir Edward Duncombe
Colonel Edward Grey
Train of Artillery
2 x demi-cannon
1 x culverin
3 x demi culverin
1 x minion
1 x saker
2 x 3lb pieces
6 x falcons
5 x falconets
3 x robinets
At the battle of Brentford the regiments engaged from the royal army were:
Regiments of Foot (circa 4,000 men)
Sir Thomas Salisbury
Thomas Lunsford
Lord Molyneux
John Belasyse
Sir Gilbert Gerard
Earl Rivers
Sir Edward Fitton
Thomas Blagge
Regiments of Horse (circa 800 men)
Prince of Wales
Lord Grandison
Sir Thomas Aston
At the battle of Turnham Green all of the royal army outlined above would probably have been present. The army had been re-recruited since Edgehill and would have numbered around 13,000 men.