Robert Devereux, Third Earl of Essex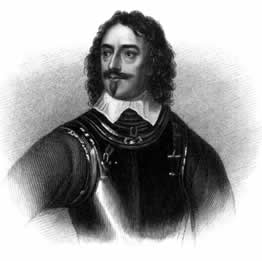 Essex was born in 1591. At the age of 10, in 1601, he lost his father, who was declared traitor and executed on the orders of Elizabeth I. But Essex's birthright, titles and landed inheritance were restored by James I shortly before his coronation in July 1603. Between 1620 and 1625 Essex served with the Dutch armies against the Spanish, seeing action at the siege of Breda in 1625. Later that year Charles I appointed him vice-admiral in the expedition against Cadiz. Despite this early sign of favour, the king subsequently snubbed Essex, who became increasingly associated with opposition to Charles I in the House of Lords. Brought out of military retirement as deputy commander during the ill-fated expedition against the Scots in 1639, the king dismissed Essex from his command in a particularly public manner when the war was over 'causing a great loss of dignity'. This combination of military experience and opposition to the king made Essex a natural choice to lead Parliament's army.
Essex commanded the parliamentarian field army during the Edgehill campaign and defended London at Turnham Green in November 1642. He successfully besieged Reading in April 1643, but his army was subsequently ravaged by disease in the Thames valley during the late spring. His careful, conservative approach to military operations contrasted with the dash of Parliament's other leading general, Sir William Waller, whose supporters in Parliament pressed for more resources to be supplied to their favourite, at Essex's expense. Essex's military reputation was temporarily reinvigorated by his successful relief of Gloucester in the summer of 1643 and his tactical victory at the first battle of Newbury in September.
But his relationship with parliament became strained again in the spring of 1644 when he and Waller were commanded to co-operate in besieging Oxford. Charles escaped from the city with a small army and Essex decided that Waller should pursue the king while he went to the relief of parliamentarian garrisons in the West Country. Although Parliament objected, Essex had marched too far west before it was able to countermand the order and it had to accept what was essentially a fait accompli. Essex lifted the royalist siege of Lyme, but was drawn into Cornwall, where his army was destroyed around Lostwithiel in September 1644. Too unwell to fight in the second Newbury campaign, Essex was forced to relinquish his command in April 1645 under the Self Denying Ordinance.
In September 1646 Essex suffered a stroke while hunting in Windsor Forest and he died on 14 September. A state funeral was held on 22 October and he was interred in Westminster Abbey.