Patrick Ruthven, Baron Etterick, Earl of Forth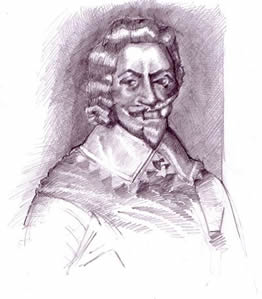 Ruthven was born in Scotland c.1573. In the early seventeenth century he served as a captain in the armies of the Swedish kings Charles IX and his son Gustavas Adolphus II. In 1615 he levied 1,000 foreign soldiers, presumably Scots, and escorted them to Narva to fight for Sweden in its campaign in Russia.
Ruthven fought at the siege of Riga in 1621 and was honoured by Gustavus Adolphus for his actions at the battle of Dirschau in August 1627. He was at the capture of Strasbourg in 1628 and the battle of Breitenfeld in September 1631. Following the surrender of Ulm in February 1632 he was made Earl of Kirchberg by Gustavas Adolphus and promoted Major General in the Swedish army, and by 1637 was serving as a Lieutenant General.
He retired to Scotland in 1638 and was made governor of Edinburgh Castle by Charles I in 1639, but was refused entry and took control of the castle only after the pacification of Berwick that year. Created Lord Etterick in April 1639, he held Edinburgh Castle for the king for seven months during the Second Bishops' War against the Scots in 1640. He was made Earl of Forth in March 1642 and joined the king at Shrewsbury in the autumn of 1642, where he was appointed Field Marshal. Before the battle of Edgehill, Ruthven and Prince Rupert argued for the army to be drawn up in the Swedish style, while the Lord General of the army, the Earl of Lindsey, argued that the Dutch style should be used. The king favoured Ruthven and Rupert, which led Lindsey to resign his position and fight as colonel of his own regiment in the battle, in which he was killed. Following Lindsey's death Ruthven was made Lord General of the royal army and commanded the attack on Brentford in November 1642.
Ruthven went on to command the unsuccessful attempt to relieve Reading in April 1643. He was shot in the head during the siege of Gloucester and wounded at the first battle of Newbury in September 1643. With Sir Ralph Hopton he was defeated at the battle of Cheriton in March 1644, but went on to fight during the Lostwithiel campaign and at the second battle of Newbury in 1644, where he was again wounded. He was made Earl of Brentford on 27 May 1644, but was relieved of his command by the king at the end of the Newbury campaign that year.
Lloyd in his hagiographic 'Memoirs' described Forth as 'A stout . . . hail man made for the hardship of soldiers, being able to digest anything, but injuries; the weight of his mean birth depressed not the wings of his great mind, which by valour mediated advancement'. The Earl of Clarendon, the royalist historian of the war, was more circumspect, acknowledging that Ruthven 'had been a very good officer, and had great experience and was still a man of unquestionable courage and integrity', but also noting, with reference to 1644, that he 'was now much decayed in his parts, and, with long continued custom of immoderate drinking, dozed in his understanding, which had been never quick and vigorous; he having been always illiterate to the greatest degree that can be imagined'. Clarendon also commented on Ruthven's inability to keep a secret as well as his taciturn nature, deafness, which caused him to claim '. . . not to have heard what he did not then contradict, and thought fit afterwards to disclaim', and his tendency to tell the king what he wanted to hear.
Ruthven acted as Chamberlain to the Prince of Wales in the West Country in 1645 and accompanied him in exile in France. He returned to Scotland with him in 1650 and, despite efforts by the Scottish Parliament to make him leave, remained at Dundee until his death on 2 February 1651.