Events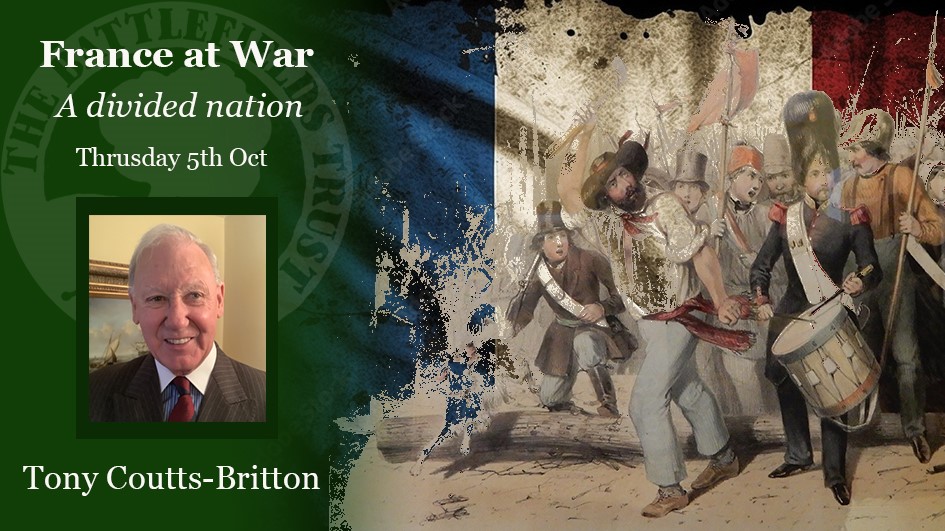 Battlefields Trust Online Lecture: France at War - A divided nation
Thursday 5th October 2023
In his talk on "France at War", Tony Coutts-Britain will examine the complexities of a nation divided by occupation, its split identities and opposing loyalties.
Anthony Coutts-Britton is an experienced battlefield guide and history lecturer. He covers many aspects of history but specialises in the areas of Politics and Conflict. He served in the Army, holding staff and command posts.
His second career as an international civil servant in NATO included political posts in Allied Command Europe. He held a senior post in the Partnership for Peace Programme for its first five years, dealing with the states of the former Warsaw Pact and the Neutral nations. His engagement in the political interface with the emerging democracies helped to enable the rapid expansion of NATO.
His battlefield touring encompasses commercial groups of all ages and professional development groups, including high-level organisations such as the Royal College of Defence Studies. He is a Fellow of the International Guild of Battlefield Guides.
His lecture subjects continue to grow and he is regularly engaged as a dinner speaker and lecturer on a wide variety of subjects. As a cruise ship speaker he has been engaged by numerous lines to include Noble Caledonia and Swan Hellenic. Since its launch in 2015, he has sailed with every ship in the Viking Ocean Fleet. His forty plus cruises with Viking have taken him to the Americas, the Far East and European waters. He was appointed as the first Viking Resident Historian, in 2017 and exercises that role in tandem with Guest Lecturer appointments.
He graduated from the Royal Military Academy Sandhurst and the University of Maryland (History, Summa cum Laude).
For further information.