Events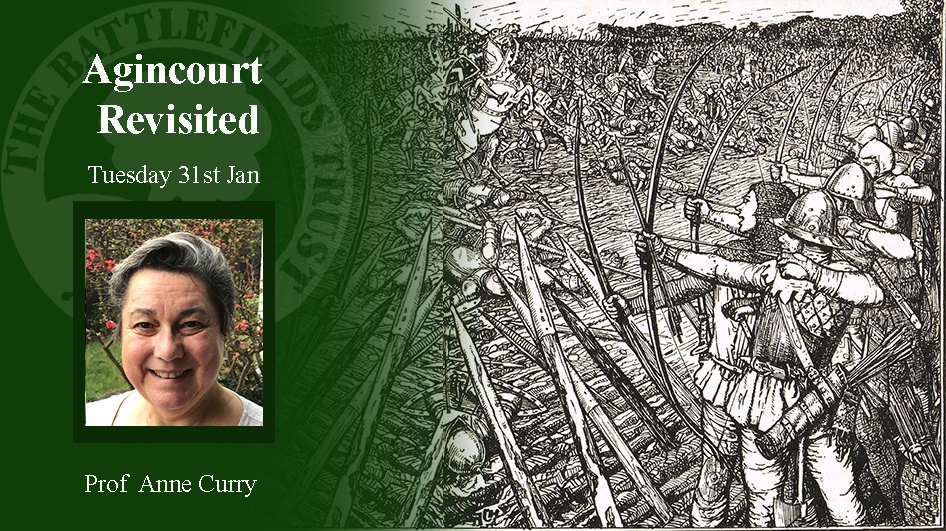 Battlefields Trust Zoom Evening Lectures
Tuesday 31st January 2023
Tuesday 31st January 2023, 8pm. 2Agincourt Revisited"
Our next Zoom lecture for Battlefields Trust members features our Chair, Anne Curry.
In her talk Anne will be reflecting on what still keeps her awake at night about this famous but controversial battle!
Anne Curry is Emeritus Professor of Medieval History at the University of Southampton and well known for her researches on late medieval warfare, especially the Hundred Years War, Agincourt and Bosworth, and her pioneering work on soldiers (medievalsoldier.org). She was a president of the Historical Association (2008-11), Trustee of the Royal Armouries (2014 to 2020), Chair of the Agincourt 600 Charity (2014-16) and Master of the Worshipful Company of Fletchers (2021-22). In May she 2022 was appointed Arundel Herald Extraordinary.
Join us and gain free access to this and all our new season of Zoom lectures! Further details may be found on our website at: https://www.battlefieldstrust.com/membership/