Events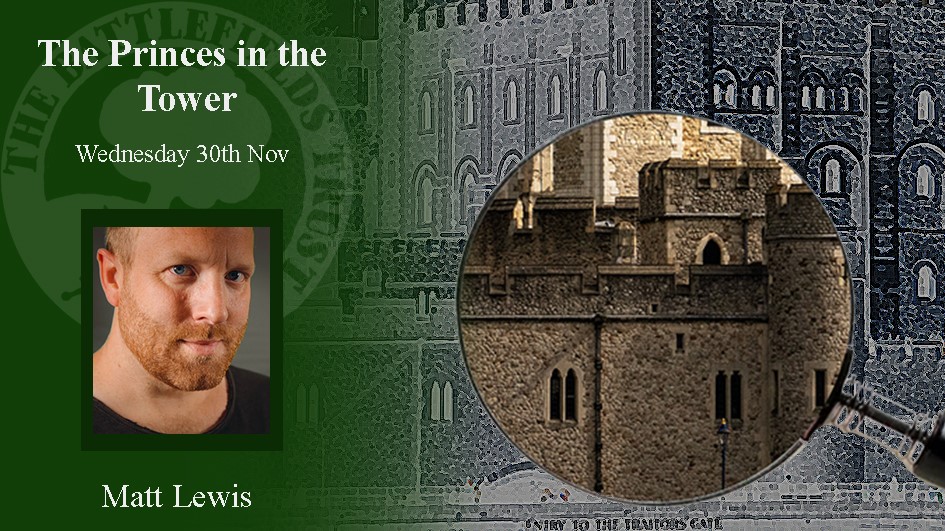 Battlefields Trust online lecture: The Princes in the Tower
Wednesday 30th November 2022
In the summer of 1483, the sons of Edward IV were removed from the line of succession and their uncle became King Richard III. By the end of the autumn, surviving reports of them being seen had ceased. For centuries it has been assumed that Richard III had his nephews murdered, but by reconsidering the mystery as a missing persons case, Matt Lewis will examine the evidence for a number of theories and ask whether we should not think of murders, but of the survival of the Princes in the Tower.
Matt Lewis is an author and historian with a particular interest in the Wars of the Roses and Richard III. Matt co-hosts the Gone Medieval podcast from History Hit, has written on the Wars of the Roses, the Anarchy, and key medieval figures including Henry II, Eleanor of Aquitaine, Richard, Duke of York and Richard III, as well as the mystery of the Princes in the Tower. Matt is also currently Chair of the Richard III Society.
This presentation is exclusive to Battlefields Trust members. It starts at 8pm, and booking will be online in response to a Mailchimp invitation sent to all Trust members.
For further information.