Events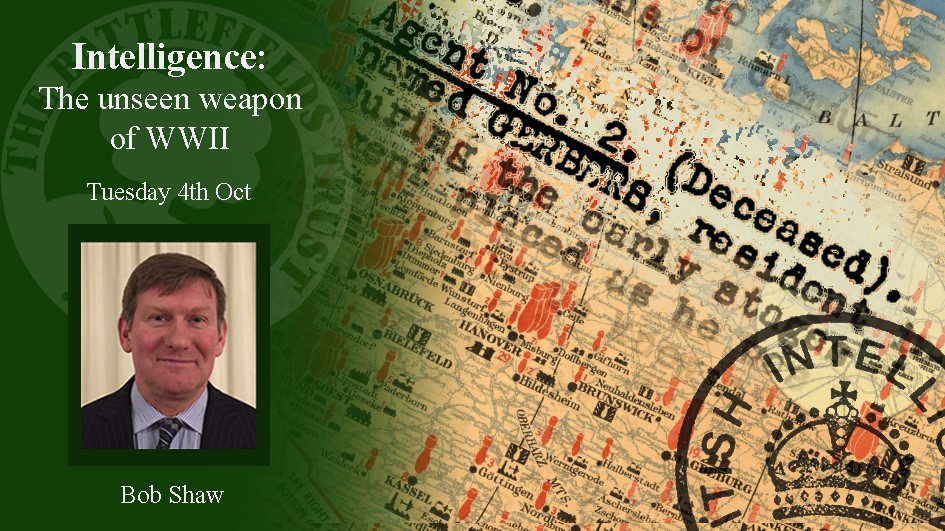 Battlefields Trust online lecture: Intelligence: The unseen weapon of WWII
Tuesday 4th October 2022
During the conflicts of the 20th century, whilst focus has been on successful strategy and warfighting capability, what has remained in the shadows has been the domain that underpins success-that of intelligence. As old as warfare itself, the ability to collect, collate, analyse, and disseminate information has expanded rapidly over the 20th century both in peacetime and conflict. Todays talk will look at some of the successes and failures of military intelligence and consider why some of these are likely to reoccur in both current and future conflict.
Robert Shaw is an accredited Battlefield tour guide and is currently writing a C-IED manual for the UN and military history books on the SAS, SOE and the Cold War. He retired from the British Army where he worked in the fields of IEDD and intelligence, working for UKSF and DIS. He subsequently managed training for the UN and NATO in Afghanistan, Libya, Ukraine, Nigeria and Somalia. His battlefield tour expertise and experience includes the American Civil War, WW1, WW2 and the Cold War in UK, USA, Belgium, Germany, the Netherlands, Italy, Sicily, Crete, the Baltic States, Ukraine, Poland and the Balkans. Robert has a Master's degree in Global Security from Cranfield University and lectures at UCL on intelligence and defence matters and counter proliferation.
This presentation is exclusive to Battlefields Trust members. It starts at 8pm and booking will be online in response to a Mailchimp invitation sent to all Trust members.
For further information.