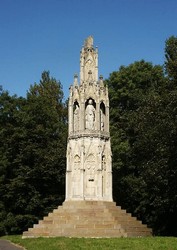 You can click on the image below to view a larger version of the image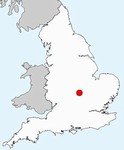 Location map
More Images - click any number below to view gallery images:
Battle of Northampton
10th July 1460
Following the battle of Blore Heath in 1459 the Yorkist army was dispersed: York had fled to Ireland, and the Earls of Salisbury and Warwick to Calais. In their absence a Bill of Attainder was passed by Henry VI against the principal Yorkist leaders.
At the end of June 1460, the Earls of Salisbury and Warwick returned to England with their supporters. Gathering forces as they went, they approached London where, in early July, they were joined by other Yorkist nobles and troops. Leaving a small force under Salisbury to keep watch over the Tower of London, which remained in Lancastrain hands, the Yorkists set of to confront the King before he had time to muster his full strength.
The King was at Coventry, but on hearing of the Yorkist advance Henry moved his court from Coventry to Northampton. Here his army encamped in the fields south of the town, close by Delapre Abbey. On the morning of 10th July the Yorkists arrived and, when attempts at negotiation led by the Archbishop of Canterbury failed, then battle became inevitable.

The Battle of Northampton, despite large armies on both sides and the Lancastrians holding a strong defensive position, appears to have been exceptionally short and with with few casualties. This was due in large part to the treacherous behaviour of Sir Ralph Grey.
The battle was an important victory for the Yorkists. Shortly afterwards the Duke of York returned to England and, in October, was bestowed the right of succession by Henry VI in an Act of Settlement. Queen Margaret refused to accept an agreement that disinherited her son and thus the Civil War innevitably continued.
The action is reasonably well located, within the former landscape park of Delapre Abbey, to the south of the medieval town of Northampton. Then the land was mainly open arable field. Today much of the site is now a golf course, but there has been little development, apart from the buildings and car park related to the golf course which lie on the south eastern part of the battlefield. However the whole area has been completely enveloped by the town in the 20th century, with housing development to the north and west, industry to the east and the A45 Northampton bypass running very close to the battlefield along its southern edge.
Unfortunately most of the remains of the open field system, in use at the time of the battle, which still survived as ridge and furrow earthworks into the 20th century, have been destroyed by the golf course. Even where such features remain they are still under threat from the golf course and other activities. They should be given formal protection. The remaining part of Delapre Park is open to the public and access is possible by footpath across the rest of the battlefield.
KEY FACTS
Name: Battle of Northampton
Type: Battle
Campaign:
War period: Wars of the Roses
Outcome: Yorkist victory
Country: England
County: Northamptonshire
Place: Hardingstone / Northampton St Giles
Location: secure
Terrain: open field
Date: 10th July 1460
Start: 2pm
Duration: circa 30 minutes
Armies: Yorkist under Earl of Warwick; Lancastrian under Duke of Buckingham
Numbers: Yorkist: claimed 60,000; Lancastrian: claimed 40,000
Losses: light
Grid Reference: SP763594 (476351,259426)
OS Landranger map: 152
OS Explorer map: 207 & 223
Battlefields Trust local contact:
Mike Ingram
Telephone: 0773 890 8808
Email: Mike@MilitaryHistory.org.uk
English Heritage Battlefields Register report CLICK HERE