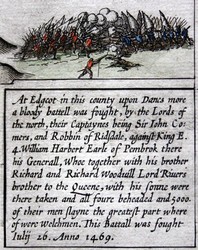 You can click on the image below to view a larger version of the image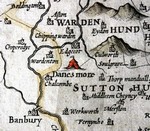 Speed's map of Northamptonshire in 1610
More Images - click any number below to view gallery images:
Contemporary Accounts
The most detailed account is that given by Hall, but this was not written until about 1540, while the accounts by Stow and by Speed that place the battle on Danesmoor are even later. The contemporary accounts, from the later 15th century, are very brief and contain no significant topographical information. Only Stowe records that the battle was fought on Danesmoor. The relevant extracts from most of the primary sources for the battle are given in full by Haigh, 1997, Where Both Hosts Fought : The Rebellions of 1469-1470 & Battles of Edgecote & Lose-cote-field, appendix 1.
anon. "'A Remarkable Fragment of an Old English Chronicle or History of the Affairs of King Edward the Fourth'." In Sprotti Chronica, edited by Thomas Hearne. Oxford, 1719. Written by a Yorkist sympathiser, writing in about 1520 says the action was fought 'ny to Banbury to a place callid Hedgecote upon the ground of a Jentilman namid Clarell'.
Hall, Edward. The Vnion of the two noble and illustre famelies of Lancastre and Yorke. London, 1548.This is by far the most detailed account of the battle and the only one to provide sufficient topographical detail to reconstruct the events of the battle.
Ingulphus. Chronicle of the abbey of Croyland, Bohn's Antiquarian Libr, 1893.
This merely records that the battle was fought at Edgcote near Banbury.
Speed, John: Nicholson, Nigel. The Counties of Britain: A Tudor Atlas by John Speed, 1988. Speed's map if 1610 identified Danesmoor as the location of the battle. 'At Edgcot in this county upon Danes more a bloody battell was fought, by the Lords of the north, their Captaynes being Sir John Comers, and Robbin of Risdale, against King E.4. William Harbert Earle of Pembrok there his Generall, Whoe together with his brother Richard and Richard Woodvill Lord Rivers brother to the Queene, with his sonne were there taken and all foure beheaded and 5000. Of their men slayne the greatest part where of were Welchmen. This Battall was fought Julii 26. Anno 1469.'
Stow, John. The annales of England : faithfully collected out of the most autenticall authors, records, and other monuments of antiquitie, from the first inhabitation vntill this present yeere 1592 . London, Ralfe Newbery and Eliot's Court Press, 1592.
Stow was writing between 1560-1592 records '…5000 of the Welshmen slain in a plain called Danes Moor near to the town of Edgecote…'
Virgil, Polydore. Anglica Historia. 1972 ed: Scolar Press, 1555.
Says little more than that the battle was fought near to Banbury.
Warkworth. A Chronicle of the First Thirteen Years of the Reign of King Edward the Fourth. Edited by J O Halliwell: Camden Society, 1839.
Writing between 1478-83 states that 'Robyne of Riddesdale came uppone the Walschemenne (i.e. Pembroke's force) in a playne byyonde Banbury toune' It is he who also records 'and as thei went togedere to mete the northemenne at a towne, there felle in a varyaunce fot the logynge, and so the Erie of Devenschyre departed from the Erie of Penbroke withe all his menne.'
Waurin, Jehan de. Recuiel des Ghroniques et Anchiennes Istories de la Grant Bretagne, a present nomme Engleterre. Edited by William Hardy and Hardy F L C P, Rolls Series, 1891.
De Waurin, the Burgundian chronicler, writing before 1474, says the battle took place near a town called Theosbury about 80 miles from London ('....prez dune ville que on nomme Theosbury, de la Londres environ quatre vingtz mules….'). .... 'Mais quant ce vint aprez disner vindrent devers ceulz du North litigieusement deux chevaliiers, lun estoit messire Guillamme Appare et lautre messire Geffroy Guat, lesquelz advertis de leur rebouttemcnt tantost les recoeillerent et ramenerent au passage...' .....'pourquoy les Gallois y vindrent a puissance, mais ceulz du North estoient beaucop plus grant nimbre que les Galles; et aussi quant Ic comte de Stamfort (Devon) fut adcertene que le duc de Clarence venoit en' layde de ceulz du North....'