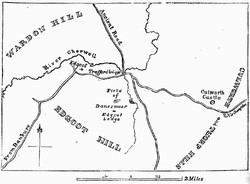 You can click on the image below to view a larger version of the image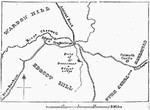 The map accompanying Beesley's 1841 discussion of the battle
Further Reading
The earliest detailed discussion is by the local historian Beesley in 1841, although brief comments are made by Baker in 1822 and Morton in 1712. Only a handful of the usual national battlefield studies include Edgcote, which was ignored by key authors such as Burne. There is one substantial modern work published on the battle, that by Haigh, which argues for a northern battle site similar to that proposed by Beesley. The book by Thomas has not been consulted in the preparation of these web pages. In addition the discussion in the unpublished report prepared for English Heritage is also of considerable value, describing the southern battlefield site. Clark also follows the southern interpretation, as does Warner though he depicts an unbelievably extensive distribution of the action, extending as far east as Culworth village. Rayner broadly follow's Haigh's interpretation.
Baker, George. The history and antiquities of the county of Northampton. London: 1822.
Beesley, Alfred. The History of Banbury. Banbury, 1841. 178-186.
Clark, David. Battlefield Walks: Midlands, 1993.
English Heritage. Battlefield Report: Edgcote 1469. English Heritage, 1994. unpublished and not available onthe English Heritage website as the battle was not included on the Register.
Fairbairn, Niel. A Traveller's Guide to the Battlefields of Britain, 1983.
Haigh, P A. Where Both Hosts Fought : The Rebellions of 1469-1470 & Battles of Edgecote & Lose-cote-field. Stockton on Tees: Battlefield Press, 1997.
Haigh, Philip A. The Military Campaigns of the Wars of the Roses, 1995.
Lewis W. G. "The exact date of the battle of Banbury i.e. Edgecote , 1469." Bulletin of the Institute of Historical Research, no. 55 (1982): 194-6.
Morton, John. The Natural History of Northamptonshire, 1712.
Ramsay, Sir James H. Lancaster and York : a century of English history, A.D. 1399-1485. Oxford: Clarendon, 1892.
Rayner, Michael. English Battlefields. Stroud: Tempus, 2004.
Seymour, William. Battles in Britain 1066-1746, 1979.
Smurthwaite, David. The Complete Guide to the Battlefields of Britain. London: Michael Joseph, 1993.
Thomas, D. H. The Herberts of Raglan and the Battle of Edgecote 1469. Enfield: Freezywater Publications, 1994.
Warner, Philip. British Battlefields: The Definitive Guide to Warfare in England and Scotland, 2002.
Whellan, William. History, Gazetteer and Directory of Northamptonshire, 1849.
A more comprehensive bibliography is given in Haigh, 1997.