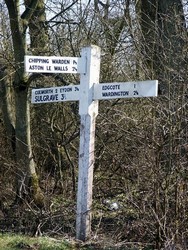 You can click on the image below to view a larger version of the image
Edgcote church
Visiting the battlefield
Edgcote is a poorly understood and largely forgotten battle of the Wars of the Roses although it now has an interpretation board installed by the Battlefields rust in 2006. However a well prepared visit to this battlefield can be very rewarding and enjoyable experience, not least because this is a quiet and very pleasant landscape of hill and vale, suitably distant from any urban development or major road.
There is good access on public rights of way and minor roads to the two main alternative locations that have been suggested for the battlefield. There are a number of excellent viewpoints from the high ground probably used by troops on both sides, giving a good prospect across both of the possible sites.
FURTHER READING
Brief comments on visiting the battlefield are given by Fairburn. Only Clark provides extensive detailed of a battlefield walk, suggesting a 7 miles route starting at Wardington. His interpretation of the action should however be treated with care, as its remarkably detailed placing of the action does not accord with the topographical evidence given by Hall, who provides the only detailed account of the battle.
Clark, David. Battlefield Walks: Midlands, 1993.
Fairbairn, Niel. A Traveller's Guide to the Battlefields of Britain, 1983.
For a battlefield location map from multimap.com CLICK HERE