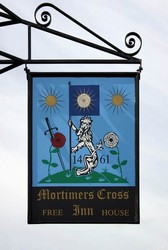 You can click on the image below to view a larger version of the image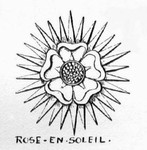 The Yorkist sun badge
More Images - click any number below to view gallery images:
The Parhelion
On the morning of the 2nd (possibly the 3rd) of February, the Yorkist forces witnessed a 'parhelion'. This is a reflection effect in ice crystals in the cold morning air which created the impression of three suns in the sky, one on either side of the actual sun. It was, supposedly, treated as a good omen of the Trinity looking down on the Yorkist cause. According to Hall this was the reason why later Edward IV took the sun as one of his badges.
'Dazzle mine eyes, or do I see three suns?
Three glorious suns, each one a perfect sun;
Not separated by the racking clouds,
But sever'd in a pale clear-shining sky.
See, see! they join, embrace, and seem to kiss,
As if they vow'd some league inviolable:
Now are they but one lamp, one light, one sun.
In this the heaven figures some event.
'Tis wondrous strange, the like yet never heard of.
I think it cites us, brother, to the field,
That we, the sons of brave Plantagenet,
Each one already blazing by our meeds,
Should not withstanding join our lights together,
And over-shine the earth, as this the world.
Whate'er it bodes, henceforward will I bear
Upon my target, three fair-shining suns.'
Shakespeare, Henry VI, part iii, act 2, scene 1 (near Mortimer's Cross)