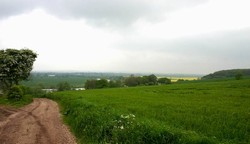 You can click on the image below to view a larger version of the image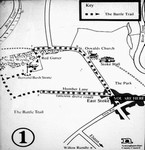 The 1987 trail that is no longer accessible.
More Images - click any number below to view gallery images:
Battlefield Walks
Two walks are presented here. The second, shorter walk is an extract from the longer for those who have more limited time.
The walks described here are meant to be used in conjunction with the battlefield OS Explorer map, which can be found in the download area on the left of the screen.
FURTHER READING
All walks for this battlefield show broadly the same route, simply because of the limitations of the footpath network. The English Heritage Battlefield Hike (7ml), gives almost the same route as presented here but in reverse, and with the addition of a visit to the site of the Fiskerton ford. The walk presented here is almost exactly that given by Clark, but again in reverse order, with parking at Elston. Kinross shows a walk from the end of the Humber Lane to the Burrand Stone and then down the Red Gutter to the Trent. This was part of the 1987 battlefield trail, which is now defunct, and as this section was not on a right of way there is no longer access along this route.
Clark, David. Battlefield Walks: Midlands, 1993.

English Heritage. Battlefield Hikes volume 1. London: English Heritage, 2003.