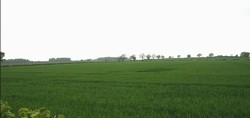 You can click on the image below to view a larger version of the image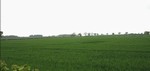 Loooking north west from the lay-by on the A64 to the hilltop where the rebel army may have deployed.
Getting to the battlefield
The battlefield can only be explored effectively on foot. The starting point for the battlefield walk created in 2018 is on Trent Lane (SK 746485), which is diagonally opposite Eden Hall Day Spa. There are laybys located on either side of the Fosse Road about 300 yards from the start of the battlefield trail. From here it is also possible to gain a feel for the significance of the gentle slope up onto the hilltop, where some authors suggest the rebel army deployed.
If travelling by bus, there are bus stops outside Eden Hall for the number 90 bus route between Newark and Nottingham, which is operated by Marshall's of Sutton-on-Trent. They also operate the number 91 from Newark to Bingham, which also stops outside Eden Hall.
FACILITIES
The nearest pub is in Flintham or Farndon