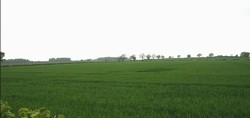 You can click on the image below to view a larger version of the image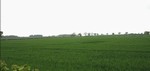 Loooking north west from the lay-by on the A64 to the hilltop where the rebel army may have deployed.
Driving to the battlefield
The battlefield can only be explored effectively on foot. However, it must be approached along what was the A46, now the Fosse Road and if travelling to the village north eastward, towards Newark, it is worthwhile halting briefly in the lay-by on the left a quarter of a mile beyond the first right hand turning to Elston. This is the best location from which to gain a feel for the significance of the gentle slope up onto the hilltop, where some authors suggest the rebel army deployed. Other interpretations place the rebel deployment at right angles to the Fosse Road, running approximately through the position of the lay-by.
PARKING
Continue half a mile to East Stoke village, turn left at the crossroad and follow Church Lane to the church. Parking for the walk is safest and most appropriate just beyond the bridge, immediately adjacent to the churchyard, where there is room for three or four cars. This is a dead end road but it is possible to turn around, if necessary a quarter mile beyond the church where the track turns sharp right towards the former ferry to Fiskerton.
FACILITIES
The nearest pub is in Flintham or Farndon
For a location map CLICK HERE