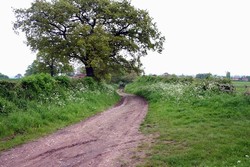 You can click on the image below to view a larger version of the image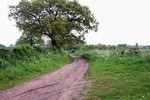 Humber Lane, looking north, where it leaves the former open field and enters the ancient enclosures around the village.
Visiting the battlefield
Stoke is not the easiest battlefield to explore because the location of the deployment of the two armies and the course of the fighting is not adequately understood and because the footpath network is not ideal. The walk suggested here involves a long detour into Elston village to avoid the busy A46, while important ground on the hilltop is not accessible.
Despite this the walk gives a good feeling for the overall character of the terrain and enables the visitor to consider some of the tactical opportunities that existed and to review the various possible interpretations of the action. Sadly the battlefield trail created in 1987, which provided interpretation panels and gave access to more of the hilltop and to the Red Gutter, has fallen into disuse and can no longer be followed.
For a battlefield location map from multimap.com CLICK HERE