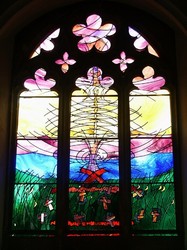 You can click on the image below to view a larger version of the image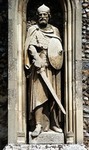 Brihtnoth statue at All Saints church
More Images - click any number below to view gallery images:
Related Places
ALL SAINTS CHURCH, HIGH STREET, MALDON
On the exterior of the church, immediately to the right of the south door, is a large statue of Ealdorman Brithnoth, carved in 1907. As with all such images of early military leaders it is a rather fanciful representation, but it is the most significant monument to the battle that currently exists.
ST PETER'S CHURCH, HIGH STREET, MALDON
This houses the town's Heritage Centre and contains the Millennium Tapestry, which includes modern representations of the battle of Maldon.
ST MARY'S CHURCH, CHURCH STREET, MALDON
An abstract modern stained glass window, which may not be to everyone's taste, representing the Battle of Maldon will be found in one of the south aisle windows of St Mary's.
MUSEUMS
There is no museum display devoted to the battle, and despite the scale of warfare in England in this Viking period there are relatively few collections of Viking period military artefacts in England. Not surprisingly the museum collections which allow one to gain the best overall impression of the Viking forces in this period are those in Scandinavia itself, from the Gokstad ship in the Viking Ship Museum in Oslo to the major collections of Viking artefacts in places such as the Historika Museet in Stockholm.