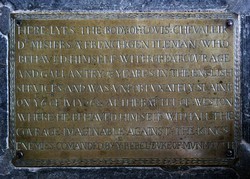 You can click on the image below to view a larger version of the image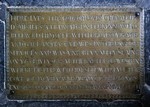 Grave of French officer at Middlezoy
Other sites to visit
Westonzoyland church: used as prison after the battle.
Middlezoyland church: in floor of nave is a grave slab with an inscription on brass plate to a French officer killed in the battle.
The Admiral Blake Museum, Bridgwater: has displays on the Monmouth Rebellion and Sedgemoor including a model of the battle and artefacts from the battlefield. Iniformation online at:
http://www.sedgemoor.gov.uk/sedgemoorweb/content/museums/blakemuseum.htm
BATTLEFIELDS
The nearest battlefield featured on this website is Langport (Somerset, 1645): 8 miles.
OTHER NEARBY SITES OF MILITARY HISTORY INTEREST
Bridgwater:
Civil War garrison stormed by the New Model Army. The only remains of defences are the stone archway on the West Quay.
Statue of Admiral Blake, Civil War commander.