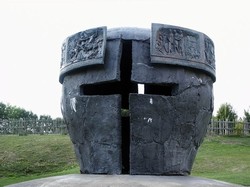 You can click on the image below to view a larger version of the image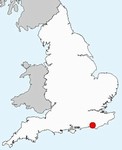 Location map
More Images - click any number below to view gallery images:
Battle of Lewes
14th May 1264
The reign of Henry III was beset by conflict with the Barons. Henry's autocratic rule, his favouritism at Court towards unpopular French nobles, particularly his despised half brothers, his foreign policies, and his refusal to discuss or negotiate policy with his Barons led ultimately to the Barons War of 1263 – 1267.
Finally, in 1258, a scheme of constitutional reform known as the Provisions of Oxford was imposed upon Henry. This provided for a council under Simon de Montfort, Earl of Leicester, to meet three times a year to discuss government administration, particularly taxation and inheritance laws. But Henry sought ways to escape the Provisions and, in a climate of increasing hostility, King Louis IX of France was applied to as arbitrator. In January 1264, in the Mise of Amiens, Louis announced the annulment of the Provisions of Oxford.
The barons, having expected a form of compromise, were furious at the dismissal of their grievances. Simon de Montfort now led the disaffected barons against the king. A campaign followed in which both sides ranged the countryside taking castles loyal to their enemy and gathering support, but not coming to open combat. In May the king's forces had reached Lewes where they hoped to rest and await reinforcements. De Montfort was determined not to let them and if unable to negotiate a truce, to draw the king to battle. Proposals for peace were offered to the King who forcefully rejected them. On the 14th May de Montfort's army marched from their camp at Fletching and took up position on Offam Hill just over a mile to the north-west of Lewes.

Following the Barons victory at Lewes, King Henry and Prince Edward were held by de Montfort who governed in their name. But ultimately the victory did not prove decisive, for de Montfort was to loose the support of many of the disaffected Barons. Edward eventually escaped and raised forces against de Montfort culminating in the battle of Evesham.

There is uncertainty as to exactly where between the top of Offham Hill and the medieval town the battle was actually fought. Thus it is unclear how much of the battlefield actually remains undeveloped. While the top of Offam Hill and the slopes to the south and south-west remain as agricultural land, the town of Lewes has spread far beyond its medieval boundaries and thus modern housing covers much of the eastern and lower slopes of the hill. Access to Offam Hill is possible via several footpaths, while both the ruins of the priory and (for a fee) the castle are also accessible.


KEY FACTS
Name: Battle of Lewes
Type: Battle
Campaign:
War period: Medieval
Outcome: Barons victory
Country: England
County: East Sussex
Place: Lewes / Southover
Location: secure
Terrain: open ?pasture, urban
Date: 14th May1264
Start: morning
Duration:
Armies: Royal under Henry III; Rebel under Simon de Montfort, Earl of Leicester

Numbers: Royal: circa 10,000; Rebel: circa 5,000
Losses:
Grid Reference: TQ399111 (539988,111128)
OS Landranger map: 198
OS Explorer map:
122
English Heritage Battlefields Register report CLICK HERE