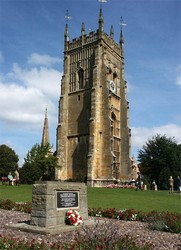 You can click on the image below to view a larger version of the image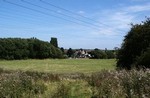 Burials were found in Deadman's Ait which may be from the battle
More Images - click any number below to view gallery images:
Aftermath & assessment
The night after the battle, it is said, de Montfort's body and that of his son and of Hugh Despencer, were brought down to the Abbey and buried before the high altar, while the others bodies of the slain were buried according to the king's orders.
The campaign and battle had been lost because de Montfort had failed to unite his forces. He had manoeuvred effectively for a time, almost long enough avoiding battle and to be able to reach his son's forces. However it had been Edward's ability to move quickly and strike unexpectedly, when they were divided, first at Kenilworth and then at Evesham, that proved decisive. The Evesham campaign showed Prince Edward's military abilities and provided important experience that would stand him in good stead in the famous campaigns he would fight in Wales and Scotland in future years as Edward I.
Though peace was not finally restored across the country for another two years, the battle of Evesham had completely broken the rebellion, for almost all of its major supporters had been intentionally killed on the field. It was also decisive in giving the king his freedom to rule without the control of a council. Henry III was no longer restricted by the impositions of a Council.
However, because of his attempt to control the excesses of the crown through the use of parliament, de Montfort has long held an important place in English history. This veneration of the Earl had begun within a few years of the battle, with his tomb and the spot where he is said to have died becoming associated with miracles.