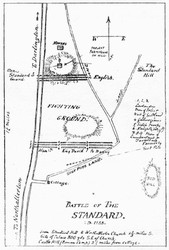 You can click on the image below to view a larger version of the image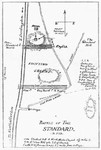 Barrett's battle plan

Secondary Works




The works used in preparing this report are underlined:
Barrett, Battles & Battlefields in England, London, Innes & Co, 1896, 26-36 Bizarrely reverses the position of the Scottish and English forces.
Bradbury, Battles in England and Normandy, 1066-1154, 1984 Essential reading for its brief but well argued review of military tactics of the period.
Bradbury, Stephen and Matilda: The Civil War of 1139-53, Stroud, Sutton Publishing, 1998, 32-7 A brief account of the battle with an awful battle plan that distorts the little historic terrain that it presents. But it is important as the first well argued, serious revision of the position of the action, as well as providing the best informed assessment of the battle tactics.
Burne, The battlefields of England, London, Greenhill Books, 1996, 96-99 Burne only provides a brief description and no plan saying 'So little is known of this battle and its interest is so predominantly ecclesiastical rather than military that is worth no more than a brief and cursory description.', 96. It is however a useful if brief discussion, as usual prompting more thought than most other accounts.
Clark, Battlefield Walks : North, 1995, 13-24 One of the more extensive discussions of the context, but a brief account of the battle.
Dodds, Battles in Britain 1066-1746, 1996, 25-26 A very brief summary that adds nothing to other accounts.
CEI, Battle of the Standard (Northallerton) 1138: Battlefield Landscape Report, English Heritage, 1994 Information on the battlefield landscape and related conservation issues.
English Heritage, Battlefield Report: Northallerton, 1138, English Heritage, 1995 The most concise and well informed of assessments of the battle, including various quotes from original sources and fully referenced.
English Heritage, Register of Historic Battlefields, London, English Heritage, 1995- The official Battlefields Register Map with single page of text and listing several of the major references
Fairbairn & Cyprien, A Traveller's Guide to the Battlefields of Britain, 1983, 28-29 Poor map. Brief text.
Getmapping, British Battles: Amazing Views, 2002, 24-25 Excellent air photo, though as usual the depiction of the deployments obscures important detail. Brief summary of context and action. Deployment plan follows Guest & Guest.
Green, Guide to the battlefields of Britain and Ireland, London, Constable, 1973, 32-36 Poor plan showing English forces further forward than most. Brief description.
Guest and Guest, British Battles, 1996, 22-23 Poor plan. Deployment follows English Heritage report 1995 except for distinguishing English archers and Henry's cavalry. It usefully does give references to primary sources for its quotes.
Kinross, Walking and Exploring The Battlefields of Britain, Newton Abbot [etc.], David and Charles, 1988, 48-49 Poor map. Brief text.
Kinross, Discovering battlefields of England, Princes Risborough, Shire, 1989, 16 Brief text. Plan hopelessly inaccurate.
Leadman, Battles fought in Yorkshire, 1891, 14-25 No plan. The most detailed published account with extensive list of sources.
Matthews, England versus Scotland, Barnsley, Leo Cooper, 2003, 43-55 An accessible popular account of the battle that puts it in a reasonable political context. However for the more serious student it is severely limited by its lack of any referencing or bibliography and its inadequate mapping.
Oman, A history of the art of war in the middle ages, London, Methuen & co. ltd, 1924, 390-396 A substantial, if colourful, account which seems to be drawn upon by various later accounts. A very basic plan with no related topography. The deployment is largely followed by the English Heritage report. Oman appears not to have visited the battlefield, because his description of the hills implies substantial topographical features which simply do not exist.
Smurthwaite, The Complete Guide to the Battlefields of Britain, London, Michael Joseph, 1993, 66-68 As usual this provides a good concise political & military context for the battle. Incorrectly locates the monument.
Strickland, Securing the North: Invasion and the Strategy of Defence in Twelfth-Century Anglo-Scottish Warfare, Bury St Edmunds, Boydell, 2000 Provides a useful if brief discussion of the numbers and types of troops and the equipment and tactics probably used in 12th century Anglo-Scottish warfare.
Warner, British Battlefields: The Definitive Guide to Warfare in England and Scotland, 2002, 174-181 Poor map, showing atypical deployment. A short but readable account of the battle, but the discussion of Prince Henry's attack and his explanation of the burials in Scotpits Lane are dubious, running contrary to other discussions and having little to support it in the primary sources.
Young and Adair, Hastings to Culloden, London, G. Bell, 1964, 22-26 One of the most coherent short accounts. Lacks a plan.
Other works which contain or may contain significant information but which were not consulted:
Bell, Yorkshire battlefields : a guide to the great conflicts on Yorkshire soil, 937-1461, Barnsley, Wharncliffe, 2001
Cummins, Forgotten fights, Leeds, 1900.