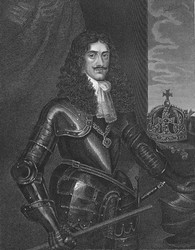 You can click on the image below to view a larger version of the image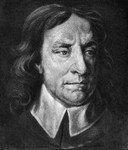 Oliver Cromwell, Commander of the Parliamentarian forces in the Worcester campaign.
The Worcester Campaign 1651
Following the execution of Charles I in 1649, the Scots recognised his 19 year old son as King Charles II and agreed to support his claim to the throne in return for political concessions. David Leslie an experienced and skilful officer was appointed to raise an army for Charles.
Following defeat at Dunbar in September 1650, by a smaller but far more experienced army led by Cromwell, Leslie had retired to Stirling. Cromwell had initially withdrawn to Edinburgh before attempting and failing to draw Leslie into open battle. After Charles was crowned King of the Scots, at Scone, he took command of the army appointing Leslie as his Lieutenant-General. Charles led an army some 12,000 strong into England in August 1651.
As he advanced through the northern counties Charles expected his army to be joined by thousands of loyal supporters, eager to join the cause. Not only did the expected recruits not materialise but many of the Scottish stragglers were mopped up by parliamentarian troops who dogged their steps all the way. Despite this Charles continued to head south and less than three weeks later arrived at Worcester. The rapid march had taken its toll on the troops and Charles decided to rest in the city and allow time for other supporters to join him. Perceiving that Charles' next move would be against London, Cromwell with some 28,000 troops, moved to cut off his route to the east at the same time as blocking passage to the west, from where the expected reinforcements were to come.