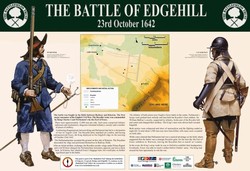 You can click on the image below to view a larger version of the image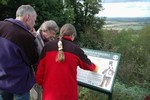 Visitors consulting the new interpretation panel in the garden of The Castle Inn, which overlooks the battlefield.
More Images - click any number below to view gallery images:
New Interpretation Panel
On the 23rd October 2005 The Battlefields Trust unveilled a new interpretation panel overlooking Edgehill battlefield. It is positioned in the garden of the Castle Inn, which gives stunning views out across the Vale of the Red Horse where the battlefield lies, between the villages of Radway and Kineton. Stand close to the site where, according to local tradition, King Charles I himself stood with his major commanders to view the field as the parliament army marched out of Kineton and deployed in what then were open fields between the two villages.
This new panel is one of a series being erected by the Battlefields Trust in 2005-2006 at Edgcote (1469), Cropredy (1644) and Edgehill, along a new long distance waymarked trail the Trust is marking to link the three battlefields. This Edgcote to Edgehill Trail project has been grant aided by the Local Heritage Initiative. The Trust would also like to thank the Hook Norton Brewery and the landlord of The Castle Inn for their support for this Edgehill panel.